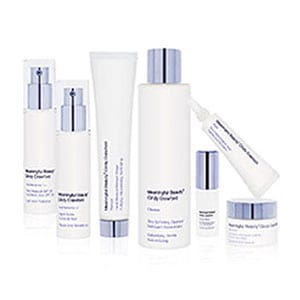 You might have seen Meaningful Beauty on TV, it's the one with Cindy Crawford in the ads saying they found a melon that helps fight the aging process. There are a lot of products on the market that use a fruit extract to get some supposed benefits for the skin or the body. Fruits have that sort of magical quality that give a sort of credibility that they might hold the key to the fountain of youth. So how do these products measure up to the claims?
Overview
It's hard to argue that Cindy Crawford doesn't still look great at her age, and the pictures showing her at age 28 and at age 45 are remarkable in how similar they appear. While this does make her the perfect candidate to sell anti-aging products, you have to consider that she does a lot more than just use beauty products to maintain her looks. She most likely eats good foods, gets regular exercise, and does other healthy activities to feel good all of the time, helping her keep her youthful looks.
The Claim
Meaningful Beauty claims that the secret behind Cindy's ability to defy the effects of gravity for so long is that she uses the extracts that are found in these skin care products. What's interesting is that they don't claim these products are what Cindy Crawford used all these years, they say that she approached the doctor that made the products she used, and had him develop this line of products so she could endorse it and make money.
The Hype
Any time you involve a supermodel in your advertisements, you're going to get some hype as well. Especially when you take such a big name model like Cindy Crawford, who was ultra-famous in her prime, and now looks as though she's kept up her good looks as she approaches 50. People always think celebrities and models are privy to secret products that help them keep their good looks long into old age, while the rest of us have no defenses and are left trying to make do with what's available to the masses.
The Cost
They are really making it hard to say no to at least trying Meaningful Beauty, pricing the entire kit at $40 which includes free shipping. That's a one month supply, did you five different items, plus 3 bonus items. There's also a seven item kit that you can upgrade to for about seven dollars more, giving you two extra items. When you look at the costs for different anti-aging products out there, this seems rather reasonable by comparison.
The Commitment
With products like this you have to use them every day as directed, and try not to look in the mirror all of the time. As we age the effects can creep up on us slowly, and often we don't realize that something is wrong until it's really wrong. Wrinkles usually don't catch your eye until they're already deep enough to see. At that point it's going to take a bit of time to smooth them out, and this will only happen if you're using the right product the right way.
Evaluation
Meaningful Beauty comes with a Skin Softening Cleanser, an Antioxidant Day Cream, an Anti-Aging Night Cream, a Lifting Eye Cream, and a Firming Chest & Neck Cream, so you're pretty much covering all the bases. Some people don't like having all these different products to use each day, and prefer a more simplistic system, however if you're the type that doesn't mind using different products for different areas, this will be a deal breaker for you.
As a bonus they throw in a Deep Cleansing Mask, a Glowing Serum, and Wrinkle smoothing capsules. At this point it might seem like they're throwing the kitchen sink at you. But really, you either have a problem in certain areas, or you can prevent problems from occurring in the first place, so it makes sense to use a comprehensive system, even if you're not currently showing any negative signs in those places.
Final Meaningful Beauty Review
We're giving Meaningful Beauty a Try rating. It seems that while each individual product works only OK, the sum of all of the parts makes most people happy. When used in conjunction with each other, it should give you decent results over the long term. That's what trips up most women that try it, they don't give it long enough to show the results that it's capable of. A 30 day trial really isn't enough to give a product like this a proper chance. Try it out for 3 months, and then make up your mind. At this price point it's a far better option that some other products out there.
Our Recommendation
The trick to shopping for anti-aging products is to keep a level head, give products a fair trial, and use them religiously and according to the directions for as long as you try them out. Time is very consistent, it always puts the same pressure on you every day, so you have to fight back just as consistently, and with the upbeat spirit knowing that you're not going to win in the end, but that you'll be able to say you fought valiantly to keep your looks, and you can age gracefully knowing that you kept your run going as long as possible.
Official Website: Meaningful Beauty
What do you think? Does Meaningful Beauty work or not?