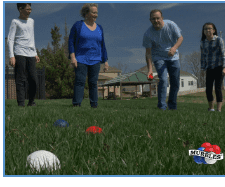 The nice weather encourages many to be outdoors enjoying the fresh air. Murbles is a great way to have fun either on your own or with family and friends. Murbles makes getting a little exercise very easy.
Overview
Murbles is a new game invention that is very similar to lawn bowling,and bocce but can be played on any terrain. Murbles can be played solo or with friends and family.
The Claim
There are several claims regarding Murbles. Murbles are lightweight hydraulic spring balls that are easy on joints when playing. Murbles are said to be easier to play with in comparison to traditional law bowling balls. Murbles can be used by all ages.
The Hype
The hype is really about the convenience of being able to play Murbles anywhere on any terrain. Playing on different types of terrain makes this game interesting. There is no set up required to play. The instructions are easy to follow and are printed on the reverse side of the bag.
The Cost
The cost to purchase Murbles is reasonably priced att $49.95 plus shipping and handling. The game includes a 2 player or 2 team set with a free carry bag. There is also a 30 day money back guarantee.
The Commitment
The commitment regarding Murbles is encouraging friends and family to participate in this wonderful new game. Another commitment is taking care of the game and putting it away after use so it will last a long time.
Evaluation
The game of Murbles is a great idea as it can be played at home, on the beach, while camping, or even at a family reunion. Murbles are so light they can be packed in your suitcase and taken on vacations to enjoy some additional fun while you are away. They come in an easy to carry bag, so they are easy to transport or carry anywhere. Murbles can be played by people of all ages as they are very light and easy to throw. Murbles provides hours of family fun. Playing Murbles on different terrains can make the game a lot more interesting and can create several levels of difficulty.
Final Murbles Review
We would give Murbles a thumbs up review. One Murbles fan stated that her family loves the game because her kids and parents can easily throw the balls and anyone can win. Another Murbles fan stated wherever he takes them they are a hit. His Grandkids love them and playing Murbles makes everlasting memories. We would highly recommend Murbles. Murbles brings family and friends together to enjoy a little competition and a lot of laughs. Murbles is a great way to get the kids off the couch and away from video games while enjoying the outdoors. The kids can also throw the lightweight bag of Murbles over their shoulder and take them to a friends house or even meet at the park.
Our Recommendation
What do you think? Does Murbles work or not?
If you are looking for more than one outdoor game to keep the family occupied then you may want to check out Boochie.