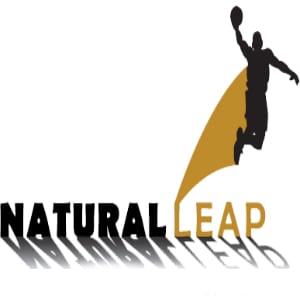 If you're looking to increase your vertical jump, Natural Leap says it can help get you there. It's hard to deny that some of the best players in the NBA and the all-stars in March Madness have some serious ups. It elevates your level of play when you can out jump your opponent, and opens up more moves you can do. Not only that, but dunking a basketball when you don't look tall enough to is pretty cool. So can this really help you train your body to jump higher?
Overview
Of course there are other fundamentals you'll want to have, like shooting and playing defense, but being a threat to charge the rim is something that will leave the other team guessing, will allow you to block more shots, and being a close range threat means you'll have more opportunities in the form of open or uncontested shots at the perimeter. They'll be too afraid of letting you have the easy shot that they'll let you have the long range shot. This means that if you learn to shoot the long ball you'll be a threat on both ends of the court and from most distances. Think Kobe Bryant in his prime or Derrick Rose.
The Claim
The claim made by Natural Leap is that you can increase your vertical leap by as much as 10 inches. This would be an impressive claim if that's all they said. But it's how they say you'll get it that is the real kicker. They say you won't have to lift weights, you won't have to put on any special shoes, and you won't have to go to the gym. So basically, you don't have to make any major changes, like paying expensive gym memberships, buying special jump training shoes, or working at this full-time.
The Hype
The hype is that this plays on the dream/fantasy of many guys and aspiring ball players to want to dunk, or if they already can dunk, to do some aerial acrobatics before they dunk. Being able to dunk is one thing, but being able to do a 360 degree dunk, or to bounce the basketball off the backboard catch it and then dunk it is much better. Dreams of winning the NBA dunk competition are what fuels this product. Watching Blake Griffin jump over a car with an ally oop dunk makes any serious basketball player want to jump like that.
The Cost
You can download the program right to your computer for $67. This includes all of the first phase videos, as well as the manual that accompanies them. They also throw in bonus workouts for you to do, and a guide that can show you how to increase the height of your jump in just 5 minutes. The seller of the program is using PayPal, and offers a 60 day money back guarantee so if you don't like it, just get a refund, and you'll be protected by the buyer protection policy PayPal has in place.
The Commitment
Just because they say you won't have to lift weights or go to the gym, don't think you'll be getting off easy with this. You know you're going to have to put the time and effort in to see the results. You should also be aware that any of their testimonials are coming from people that dedicated several hours a day to training and following the system. They like to make testimonials sound like anyone can do it, but the fine print always states that they represent exceptional results, and not the norm.
Evaluation
With a program like Natural Leap you don't have to wonder if it works or not, because there's no ambiguity on the results. You'll definitely know if you're jumping higher. It's easy to mark your jumping ability before, and then mark it again after you have followed the system for a few weeks. This should be plenty of time to determine whether it's worth keeping. With the program they include that shows you how to jump higher in 5 minutes you should know right away if the system and techniques are sound.
Besides Basketball
The first sport that pops into everyone's head when you hear vertical jump is basketball, but the same sort of jumping power can be applied to many different sports. Volleyball players will be able to block the net and spike better. Football players will be able to explode off the line better and catch high passes over the defenders, or make more interceptions if they're on defense. If you're into track and field this will help you run hurdles better and do the long jump or the triple jump better. It's very versatile and can be used by women as well as men.
Final Natural Leap Review
There are plenty of different jumping programs to choose from, and Natural Leap seems to be one of the better ones you could go with. We like that you don't have to buy anything extra to use it, and can get started with it the same day you buy it. So many programs out there want you to use weights, or use gym equipment, which represents added cost, and the inconvenience of having to leave your home. With this you can use it any time you want, from the comfort and privacy of your home and no matter what the weather is like outside.
Our Recommendation
It's simply a matter of trying the different programs out until you find one that works for you. If you're still not convinced about Natural Leap, try one of the best vertical jump programs we've found so far: the Jump Manual.
What do you think? Does Natural Leap work or not?