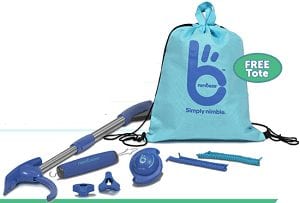 Individuals that suffer with arthritis are commonly faced with a lot of challenges throughout the day that can make living a normal life most difficult. There are a few devices that may be able to make things easier for them, and this is what Nimbeze is all about.
Overview
Nimbeze is a collection of small gadgets that have been designed to help individuals who are suffering with arthritis or other disabilities that prevent them from performing some everyday tasks. These items are a reaching stick,bottle open items, button helper,shoe lace replacement and finger saver.
The Claim
The company promoting the Nimbeze collection has really done their homework when identifying all of the common but frustrating problems that arthritic suffers face. They claim that all the included devices are going to make like a whole lot easier.
The Hype
The marketers really don't need to create a lot of hype because each of their devices by name identifies a specific problem that arthritis sufferers complain about. By providing a solution to address the unique needs for those suffering with this painful condition is all that is needed to gather the interest.
The Cost
The cost of the entire Nimbeze collection is $29.95 plus $9.99 for shipping and handling. Now what you are going to get for this is the shoe helper,bottle capper,button helper,finger savers and no tie shoe laces, and a handy carry bag to carry all these items in.
The Commitment
It is all going to depend on how severe and where your arthritis is afflicting you to determine if you need all of the Nimbeze devices. If you don't have problems tieing your shoes or putting them on then you may not need at least two of the items. You are going to have to decide whether this is a good investment for you.
Evaluation
Most often individuals with arthritis have difficulty with the mobility in their hands. This makes tieing shoes, opening items, and reaching items really difficult. A simple task like doing up buttons can be painful and frustrating. All of the devices in the Nimbeze collection make good sense.
Final Nimbeze Review
We are going to give Nimbeze a thumbs up rating. They have made it really convenient for the arthritic sufferer to get all of the resources to aid them with some of their daily living needs in one convenient place. At the same time it is only a wise investment if all of these items can be used.
Our Recommendation
Take a look at each of the devices individually and think about how much use you could make of it. Do this one by one for the Nimbeze products. You may want to make a list. This way you are going to get a clear picture as to whether it is worth paying for. If your assessment only indicates that you would put one or two of them to good use, then you may be better off looking at where to buy a similar product individually then doing a price comparison. You may also want to consider the future as well. You may not be able to use all of the products now but what happens if your arthritis progresses? If you have difficulty with mobility you may want to take a look at the Mobile Cane.
What do you think? Does Nimbeze work or not?