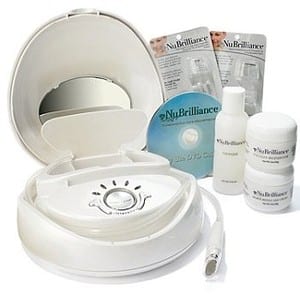 Nubrilliance is an at-home microdermabrasion system that is supposed to allow you to conduct your own treatments and give you results similar to those you'd get if you had it done professionally. But can this really replicate the real thing?
Overview
Microdermabrasion is a process whereby you're sloughing off the outside layer of your skin, with all of the dead skin cells and impurities. The result is that you're able to have healthier looking skin, with a reduction in aging signs and a better appearance overall. The technique itself has been around for several years now, and several companies are trying to be able to bring it into your home for your own personal use. They say that the device is doctor approved and that it can lessen the appearance of fine lines, age spots, enlarged pores, and that it can be used by teenagers to help clean their skin.
The Claim
The claims made about Nubrilliance are that it is using the same kind of equipment that is used when you go in for high-end treatments. The company says it's using laser-cut diamonds to do the exfoliating, and that it provides suction to gently lift the skin on your face, and suck up all of the stuff that the unit manages to scrape off of your face.
The Hype
Any product that promises to help you look younger will carry with it a bit of hype. In this instance they have a number of daytime TV stars that are promoting it and speaking of its benefits.
The Cost
There are two ways you can pay for the Nubrilliance system, and they make it so there are benefits to each method. The first is on a trial offer, where you pay $15 to have the unit sent to you, and then have 30 days to decide whether you want to keep it and pay for it in installments, or whether you want to send it back and pay nothing else but the return shipping charges. You don't get the $15 back if you return it, but they let you keep the skincare package that comes with the kit. The total for everything will come to $255, by making 3 monthly payments of $80.
Option two is to just pay for the entire thing outright, which comes to $240. So you save $15 by not trialing it and they throw in a few other offers to entice you into just buying it. They will send you replacement filters for one year, and they will also process your order more quickly. With this option you get 60 days to decide if you want to keep it, rather than 30 days.
There is an ongoing maintenance cost if you buy it in payments, you'll need to buy the replacement filters as needed since they aren't included in this offer.
The Commitment
The nice thing about owning your own microdermabrasion kit is that you can use it as often as you like, all for the same price. You can also use it only as needed, making it a nice item to have in your beautification arsenal. You can put yourself on a weekly or monthly maintenance routine, or you can simply use it when you start to see signs you want to get rid of.
Evaluation
The killer app with Nubrilliance is that they're using suction, which is something that we've yet to see on other DIY microdermabrasion systems. They say it is supposed to be a gentle sucking, which would render complaints that the suction does suck very hard a moot point. It's not supposed to suck hard like a vacuum cleaner would, but rather to gently suck up what it can, and stimulate the skin.
Any time you see a product sold through a trial offer there will always be some fine print as to what this entails. Often it involves future charges if the product is not returned within the evaluation period. The assumption is that if you don't return it, you like it and you won't mind being billed for it as agreed. Problems arise when those charges still show up on your credit card even after sending the product back. It can come down to a matter of he said/she said in regards to which day the unit was received by the customer, and when the unit was sent back.
Final Nubrilliance Review
Nubrilliance has earned our Risky Try rating based on some telltale user feedback, as well as a pricing structure that is consumer friendly only if they uphold their end of the bargain. The reviews on the unit itself range from stellar to warning that it's a potential lemon. There are also several complaints about the ordering process, with several buyers saying that they returned the unit within the return window and were still charged for it and unable to get their money back after repeated attempts.
Our Recommendation
If you'd rather make payments than pay for the entire thing up front, go with the trial offer. They have it set up so that your 30 days begins when you receive it, not when you order it, so you won't have to feel pressured into making up your mind quickly. $80 a month for three months is reasonable if you decide to keep it, because salon visits to have it done would cost you more than this. It's a good idea to go have one microdermabrasion session done professionally before ordering this so you will have something to compare the results against.
What do you think? Does Nubrilliance work or not?