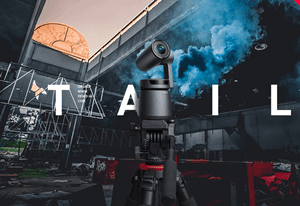 Capturing memorable moments is important to many people. The OBSBOT Tail is the world's first camera with Auto-Director Al.
Overview
The OBSBOT Tail camera acts as your director and cameraman.
The Claim
The OBSBOT Tail camera can use auto zoom, track, and capture movement up to 4K/60fps. It is the first auto-director of it's kind.
The Hype
The hype about the OBSBOT Tail is the innovative new abilities you can utilize through a powerful app, premium hardware and advanced algorithms.
The Cost
The cost of the OBSBOT Tail is $719 U.S. Howe,ver you may find some special offers. This unit can be shipped anywhere in the world. There are many accessories that can be purchased for the unit as well.
The Commitment
The commitment required for the OBSBOT Tail is fully reading and understanding the operation manual. A camera of this value should be stored in a secure location and insured.
Evaluation
This new innovative camera acts as a personal director and cameraman automatically. The ability to edit and share recordings with the OBSBOT studio app is simply amazing. This only requires a few simple steps. This product supports high-precision gesture control system. This is an automatic feature that works well with various backgrounds. The gesture control also works amazingly in difficult lighting conditions. The gesture control technology works up to 0.5 meters wide and distances up to 20 meters. The tap lock feature allows the user to switch or lock the shooting target. There are other shooting modes, such as group mode and rapid mode. The advanced tracking system is designed for up to 40 meters of shooting. The Shar lock feature regains targets quickly. This device works amazing with Pet Pal, a pet tracking feature. You can track your pet during poor lighting and even in the dark. This unit can simultaneously save short videos and photographs while shooting. The Pinpointing feature adapts to various camera movements and distances.
Final OBSBOT Tail Review
We are going to give the OBSBOT Tail a thumbs up. This camera can do so much more than a traditional camera. It can capture any events which have a lot of movement and speed. Many of the features adapt automatically so the user can focus on the subjects they are recording. This is the world's first launch pad featured video camera. With a tap on an app or activation of a gesture, over 20 different camera movements and functions can be triggered. We would highly recommend the OBSBOT Tail. This is an amazing unit that can be used on your own to track, capture, and record anything. It automatically adjusts many features and works well in complicated lighting conditions. It captures high-speed movements, which is great for sporting and racing events. This unit can be attached to many items for hands-free operation.
Our Recommendation
If you are looking for another camera with unique features then take a look at Digi Tech.
What do you think? Does OBSBOT Tail work or not?