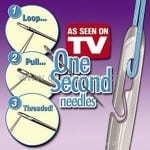 Do you find it hard threading a needle? Do you always find it tedious following the process of cutting the thread, licking the end, straining your eyes and peering over your glasses to see the eyelet, as you thread your needle? Well, you are not the only person experiencing that struggle. Many people are.
Even if you do or do not have a trembling hand, an eye complication, or whatever it may be, many people are experiencing the same and are despising this work of threading their own needles. If you are one of these people, this is your lucky day because there is an innovation that you will surely be interested in. This new product is known as the One Second Needle.
Overview
One Second Needle is an improved needle that makes threading easy and fast. With this threading it is no longer a struggle because not like those ordinary needles One Second Needle does not only contain a hole at the end part. It also has a slide-in cut to let the thread go directly into the needle's hole, which is the eye of the needle. All you have to do is to loop and thread. Once done, you are now ready to either start or continue your work.
The Claim
Many people agree that One Second Needle is the answer for their problems in threading their needles. Some people say that you can thread a One Second Needle without even looking at it as you thread. It's because all you have to do is to loop your thread on your needle, pull the thread in the eyelet as you reach the slide-in cut of the needle, and there it is – all threaded! With this convenience, it is no wonder that many people approve of and use it.
The Cost
One Second Needle is available at the market for a very low price. In addition, the distributors of this new product are now offering a special limited Internet offer, which will equip you with a complete set of four One Second Needles. These 4 needles are composed of two large and two small needles for the cheapest price of needles in town today – $10 plus $6.99 shipping and handling cost. Another bonus offer will be given to those who will buy the product as early as now. This bonus offer will equip you with a complete set of
One Second Needle, together with the 130 piece sewing and mending kit. This bonus will cost $30 with a processing fee of $5.99. The two bonuses mentioned above are not the only offers available if you buy now.
The Hype
Looking at the bigger picture, if you really want to be one of those people who truly have the luxury of not having any struggle when threading their needles, buy now and get with it! However, this is also a classic example of a company trying to make a problem for people that don't even have one. For example, people that only sew a few times a year may be prompted to buy it, even though they may not even use it enough to justify the purchase.
Evaluation
With so much sales success, online reviews of One Second Needle are now available. These online reviews only prove how life-changing this new product is. It is because many, if not all, of these reviews showers praises onto this product. The experienced users of One Second Needle are the ones publicizing these reviews. Usually, they say that One Second Needle lived up to their expectations. It is because it gave them the chance of making sewing clothes and garments an easy thing instead of a pain. You may read these reviews if you would want proof or if you would want to evaluate how effective and convenient using a One Second Needle is.
Final One Second Needle Review
Do you now see how a One Second Needle would satisfy your needs? A One Second Needle makes threading easy. It is available for a very low price. Its distributors offer very beneficial bonus offers like sewing kits. And it makes your sewing life easier. With the convenient structure and affordable price you can get by purchasing a One Second Needle, it is not surprising that many agreed with the claims and went ahead and got one.
So if you're asking whether the One Second Needle is effective or not, for sure, many are happy with its performance. Thus, if you want to ease your dilemmas regarding sewing work buy one now and be more satisfied than the others who have not yet come across the solution to their problems.
Our Recommendation
With the benefits that you will be able to get by using a One Second Needle, we recommend you get one. It is for sure, One Second Needle will let you experience sewing work that is effective and time thrifty. It is also wise that you should buy directly from the manufacturer of this kind of needle so that you get a genuine product and not an imitation.
What do you think? Does the One Second Needle work or not?