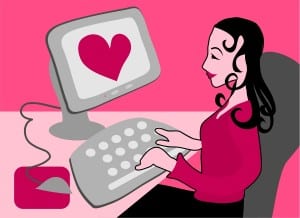 If you've been getting fed up with the singles scene lately, you've probably considered online dating. It doesn't sound like a bad idea after too many night spent in a smoke-filled bar or club hoping to bump into Mr. or Miss Right.
Overview
The rise of online dating has coincided with the rise of the Internet and is now a part of everyday life for many. It allows you to scan and be scanned by people that are actively looking to date, or for a more serious relationship. Even sites like Facebook can serve as a peripheral from of online dating, although it's not expressly designed for this purpose.
The Claim by Online Dating Sites
The claim of online dating sites is that you'll be able to find the love of your life, or at least improve your dating life by using their service. Some sites like eHarmony claim to have proprietary matching software that will make the process more accurate. Other sites allow you to create a profile in the hopes of typing the right words and posting the right picture to attract your mate.
Service Review Recaps

eHarmony Recap
eHarmony is one of the most well-known online dating sites thanks to a heavy amount of infomercials. Their main feature is their extensive questionnaire that is supposed to get into your head and down to what you're really wanting. They then pair you up with someone that is in-line with your desires so there's a higher probability of a successful relationship.
They were the first company to try and add a little bit of science to the whole process. Rather than leaving things up to fate, or just basing things on looks or how witty your profile description is, they try to take things seriously from the start. Find out if it works.
See our full review of eHarmony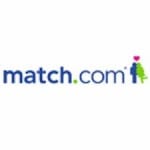 Match Recap
Match is one of the most popular dating sites because it advertises heavily on TV and online. They have a very big user base, and they claim to be responsible for making matches in the real world. You can usually get started for free, but eventually they'll try to get you to sign up for a monthly service so you can use all of the features.
Charging for the service is fine, but there's really no guarantee that you'll be able to find love by using their site. There are some tips you can use to try and tip things to your advantage, but be sure to check out our full opinion of the Match.com site.
See our full review of Match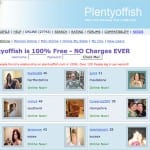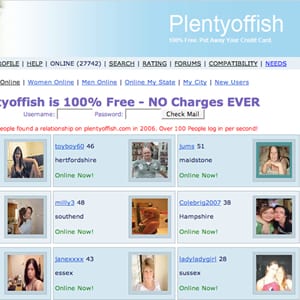 Plenty of Fish Recap
Plenty of Fish is the cost-free alternative to paid dating sites. It came to fame and got its original surge of traffic and users by offering their entire service for free. These days it as a premium upgrade, but it's still free to sign up and use the majority of their services. The upgrade just enhances things further if you want to take it to the next level.
They don't use tactics like telling you you have matches but then making you pay to see them or to contact them. You're allowed a lot more freedom than you are on some other sites, but does this get results?
See our full review of Plenty of Fish

The Hype
There are plenty of commercials on TV showing happy couples that claim to have met online. Plus if you spend any amount of time on the Internet you're sure to see banner advertisements for a dating site before too long.
The Cost
Different online dating sites have different costs. For example Plenty of Fish says you can keep your credit card in your pocket, they're totally free and support themselves with ads on the site. Other services like Match.com or eHarmony will let you try it out, but then will want to get paid if you want to stay on past the free trial or to see the matches they've picked for you.
The Commitment
You have to be committed to the process if you want online dating to work for you. If you put too much of a time constraint on the results you'll no doubt be disappointed with what you get. Just because it's online doesn't mean it's instant. It may take weeks or months to find someone or be found. You have to resolve yourself to give it your all, and to keep up with it until you get the desired result.
Evaluation
Online dating sites do all that they can to give a bisection of your personality and put it onto a web page. You'll have the ability to add multiple photos, putting your best face forward. You'll also get a chance to let people know about you in your description. This is your chance to come up with something clever or witty, something that you think your prospective mate will like, or something that will separate you from the rest of the pack.
Because of the level of personalization, the real question is, can you make online dating work? Do you have the ability to use the tool in order to get what you want? The audience is there, the services are in place, but no one will hold your hand and upload the right picture of you or say the right words. It's up to you.
Choosing the Right Service
There are few different strategies you can take when approaching the online dating game. You can put all your eggs in one basket, so focus all your attention on one site and do your best to maximize your returns from it.
Or you can spread out a large net, and use all of the different sites at the same time. This will involve a weaker focus on each site, but could multiply your exposure.
Both methods have their positives and negatives. If you focus on one site, you could be missing out on all of the people available on another. But if you spread yourself too thin you might not be putting your best face forward. This is why it really depends on what you're after.
If you want a long-term relationship, go with a site that tries to match you up based on things other than your picture and your submitted info. Also, you will be looking at people and judging them by deeper criteria than the way they look and what they say.
If you just want to have fun, or see what's out there, go with a more light-hearted site, and definitely put that in your description. You don't want to lead people on, or let someone believe there could be a future when you just want to play around.
Things to Avoid
You definitely want to get what you pay for when you sign up for an online dating site. They are all big on claims and promises in the beginning, but you want to be sure that you don't get left high and dry and have less money in your pocket when it's all said and done. Try to verify that a site actually has a solid user base, and that it is geared towards your end goal.
And don't fall for sites that only show you some of their features for a free membership and push their upgrade heavily. A site should give you the chance to talk to your matches without paying. If you want to enhance your profile for an extra charge in order to get more matches, that's fine, but they shouldn't keep your matches under lock and key.
Does Online Dating Really Work?
Online dating works if you bring the right mentality for it, and use the right site that is in line with what your relationship goals are. For example, if you just want non-committal nights out with someone, then you wouldn't want to use a site like eHarmony, because they attract people that are looking for long-term relationships or marriage. If you want something more stable, you might not want to use a site that focuses most on no-string-attached kind of scenarios.
Our Recommendation
Don't be afraid of online dating. In this new age we're in you'd be silly not to use all of the avenues available to you. The dating scene is rough enough as it is, and you don't want to leave things to chance all the time. When you weigh the pros and cons of online dating against traditional dating, it's worth a shot, at least on a free trial and see where it leads.
Almost every site has a free trial, and you should take advantage of this and use the site as much as you can within the parameters of that trial period. Only then can you properly decide if it's worth paying to go on further. Once you put the money up to take things to the next level, make sure you step up your game so you get your money's worth.
What do you think? Does online dating really work?