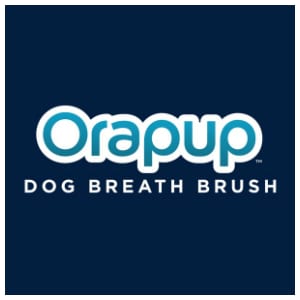 Orapup is a bad-breath killer for dogs that is designed to let them do all of the work. If you've ever tried brushing their teeth or trying to spray a breath spray you'll appreciate that they're supposed to come to you on this one. But how well does it work, based on actual use?
Overview
Apparently the makers of the Orabrush were inundated with requests to make a similar product for dogs, since their breath is usually quite appalling. Rather than just sticking a different logo on their existing product, they decided to make it totally unique so that dogs would actually like using it. That sort of ingenuity is a recipe for success, but we had to explore further to see if they pulled it off.
The Claim
The big claim on Orapup is that it dramatically improves your dogs breath by scrubbing clean the entire length of their tongue. They say it works because of the way it's designed, it gets them to lick it from an angle that uses their whole tongue, so it gets a good scraping. The mechanics are the same as the Orabrush, it's using the bristles that are used on surgical scrub brushes to get surgeon's hands really clean.
The Hype
Dog owners are always looking for ways to improve their dog's breath. There are dog biscuits that are designed to scrap the dog's teeth and freshen their breath. There are even sprays that are supposed to loosen up the plaque build-up and help with their doggy halitosis. At the end of the day we all want our dogs to have fresh or at least neutral breath, but there doesn't seem to be anything really good that does the job quickly and easily.
The Cost
For $16 you get one Orapup, but they're also throwing in 2 Orabrushes, which is an actual bonus and not just a gimmick to get you to buy it. They offer free shipping if you order 2 or more of them, if you just want one shipping is $5 flat for everything. If you want to be able to pick your color you need to buy to at once as well. Also included is the flavor bottle, which is a goop with flavoring on it that gets the dog to lick the brush, so you don't have to force them to use it.
The Commitment
Hold onto the handle. That's really all that you have to do. If you've ever tried to brush your dog's teeth you'll appreciate that this is based on a "come to me" strategy, so the dog thinks they're getting a treat. If you have to chase them down and then hold them down in order to brush their teeth you're likely to be met with a lot of resistance. However, if they know they're going to get a great-tasting treat and a tongue massage, t
Evaluation
They've really done a good job of figuring out the best way to transform their existing product and features to the use by dogs. It's not often that a company get both the concept and the execution right. Usually they get one right but the other, leading to a product that works well on paper but doesn't work in the real world, or product with a flawed design but well-made.
By making the experience fun for your dog you won't have to chase them around the house and pin them down in order to use this. In fact, if you frame it right you could even use this as a treat, since the flavored gel should get them salivating. Plus the massaging action on their tongue should feel good to them. They will be none the wiser that they're actually doing something good for themselves.
Final Orapup Review
The Orapup is getting our Thumbs Up review, and it looks like they've got another winner on their hands. The fact that you also get two Orabrushes made for humans just sweetens the deal. With so many products having weak or even phony bonuses that make you pay shipping in order to get them, it's nice to see a true bonus being offered, without the need to pay extra shipping, and with a quality product behind it.
Our Recommendation
This is one tool you'll want to add to your dog's bad breath survival kit. You can use it daily if you want to make sure they don't catch you off guard with a slobbery and stinky kiss. Or you can simply wait until it builds up to a climax before doing something about it. Either way you're going to be doing something good for your dog's oral health, and if they do manage to ambush you with kisses it won't smell so bad afterward.
What do you think? Does Orapup work or not?
[kkstarratings_custom_footer]