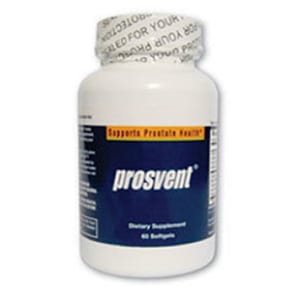 Prosvent is a product aimed at improving the health of the prostate, and they claim to be able to guarantee relief from your symptoms with no side effects. This would appeal to lots of guys that make frequent trips to the bathroom throughout the day, and can't get a good night sleep because they're always waking up to go to the bathroom. An unhealthy prostate can also lead to problems in the bedroom, so many men are all ears when it comes to an all-natural solution.
Overview
With a lot of baby boomer aged men hitting the time of their life when the prostate starts to act up, it only make sense that there are several companies sprouting up offering them an herbal remedy. It can be scary thinking about things like prostate cancer, or having surgery done on your prostate, so it makes sense to look into all of your different options, and also to be proactive and try to improve the health of your prostate before it comes to a head, and must be dealt with using modern medicine.
The Claim
Prosvent claims that you Be able to take fewer trips to the bathroom, both during the day and through the night. They also say that you'll have better sex with a healthier prostate. But these are just the effects of having a healthy prostate, not necessarily what will happen by taking their supplement. This may not seem like a big deal, but these are pretty big claims. Modern medicine only has powerful prescription drugs and medications to try and produce the same effects. To be able to find naturally-based substances that give the same results is quite an accomplishment.
The Hype
The hype comes from so many men having an enlarged prostate, and wanting to get it back down to size so they can function normally again. Guys can get really sensitive about this sort of thing, so there is a high desire to get things fixed, and a lot of emotions when this sort of product doesn't live up to its claims.
The Cost
Prosvent is $44 a bottle, but they offered discounts if you ordered more than one. You can get three bottles for $85, effectively bringing your personal price down to $28.
The Commitment
All that would the required on your part is to take the pill according to the directions. There other steps you can take to help maintain a healthy prostate, including eating the right foods, avoiding the wrong foods, and even how often you have sex all plays into it. So in conjunction with taking a supplement like this you should take other steps to help alleviate symptoms, and get down to the root of the problem.
Evaluation
Prosvent doesn't really spent a lot of time explaining why their product works, they are intensely focused on trying to sell you the product over anything else. In fact, there's not really any evidence given that the product works. With all the bonuses they throw in with it, and the chintzy infomercial they have, there's just not a lot to convince someone to even give this a try. This is another one of the products out there that says it is guaranteed to work, and backs it up with a money back promise, but that doesn't give enough cause to try it out.
Signs of Trouble
At the time this writing they've even let their domain name expire, so they might not even be in business anymore. If they are still in business, it doesn't really make sense why you'd let your domain name lapse. Our guess is that they're closing down shop, and simply selling off the remaining inventory they have on places like Amazon and other online retailers.
Final Prosvent Review
Prosvent was most likely a flash in the pan company that was trying to sell a sham product to unsuspecting men. They were giving away a free bottle of Provigor with every multiple order of Prosvent, but that is probably a product that doesn't work either. When it comes to taking an all-natural supplement like this to treat something like your prostate, you have to go with a company that has a long track record of success with herbal supplements.
A company selling herbal products should have the same rigorous standards as a pharmaceutical drug corporation. This is because they are selling something that will be ingested, and is designed to interact with the body's chemistry and physiology. This is not something to be taken lightly, and it is not just a matter of rounding up some plant extracts, combining them together and calling it a product.
The system is set up so that they try to instill belief in as many people as they can, so that they can get people to think that the product will work. If enough people believe that the product will work, take it, and see any sort of improvement they will associate that with the pill working. Apparently not enough people made it this far, as Prosvent has no positive feedback, and just couldn't seem to get off the ground.
Our Recommendation
You can safely avoid Prosvent and go with something more reliable from a company that can manage to stay in business for an extended period of time. We are in the process of evaluating all of your different prostate health options, and will report back with our findings as soon as we can.
What do you think? Does Prosvent work or not?