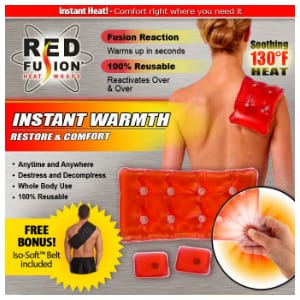 When you first see the Red Fusion Heat Wrap you'll probably think it's a pretty neat invention, but the next question you'll probably ask is whether or not it works. It's usually the products that have the wow factor that don't live up to the awe in real life.
Overview
If you're unsatisfied with the way your current heating pad works, or need something that is portable, this product would be for you. The biggest problem it solves is that you can take it with you wherever you go and have it ready whenever you need it. It doesn't use any electricity when it's activated, or to regenerate it. The other nice feature is that it's not disposable, so you can use it again and again, just like an electric heat wrap.
The Claim
The makers of Red Fusion Heat Wrap say that all you have to do is click the activating disc and it immediately starts a change in the crystals. They start to heat up and reach a top temperature of 130 degrees. They say that each time you use it it will be just as effective as the first time you use it. They say that the hand warmers can stay warm up to 40 minutes, and the larger back warmer is able to hold its temperature for up to two hours.
The Hype
The hype comes from the novelty of this product. It is pretty head-turning as it starts to heat up, with it changing color and warming up quickly, it's unlike many products currently on the market. It also makes it easier to know when it's fully boiled, as the contents return to their liquid state.
The Cost
You can get a Red Fusion Heat Wrap for $27 which includes shipping. Because it's reusable the price is reasonable. They say that it should be able to last an unlimited number of times, but we were unable to find any long-term third-party reports of how well it lasts under normal use, but we did confirm that it actually can be recharged and reused using the boiling water method they advise. Being able to reuse this makes it a pretty good price, when compared to disposable heating packs, and the ongoing costs of using plug-in heating pads.
The Commitment
Because this heats up so quickly, and stays hotter longer than most heating pads of its kind, it should make your life easier. As long as you remember to recharge it and have it ready for the next time you need it, it should represent a more convenient way to have a hot pad at the ready.
Because the Red Fusion Heat Wrap has so many uses, you won't be strained for ways to use it. They say you can use it to relieve tension, but you could also use it as a way to relieve sore muscles after a workout, to help recover from an injury, for cramps of all types, during the winter when you're trying to keep warm, on a hiking trip when your sleeping bag isn't cutting it, or at work when your back gets stiff from sitting for long periods of time. Most of us have plenty of idea for how we'd use it if it does its job.
Evaluation
There are a limited number of reviews out there, but what we're seeing is that this is looked upon favorably, and seems to perform as depicted in its promo video. They say it uses a proprietary blend of ingredients, but what they do disclose are all natural ingredients like vinegar and salt, so it's not as if it's a bunch of chemicals that you're holding up against your body. That being said, it's not something you should put in your mouth if it ever gets punctured or torn.
The most interesting part of this heat wrap is that it can be reused. There are plenty of hand warmers and heat packs that you break in order to have them heat up, but then they're disposable, or if they are reusable they just don't get as hot on repeated uses. With the Red Fusion Heat Wrap it's like you give new life to the crystals each time you boil them. Just be sure to boil it to the point where all of them go back to being a liquid, or you won't get the same effect.
Final Red Fusion Heat Wrap Review
We're giving the Red Fusion Heat Wrap a Solid Try rating, as it appears to work the way it claims to, and it's at a price point that would make it a good deal if it does work. There are some features we're still a little skeptical on, but it wouldn't stop us from getting it. First, it might not stay warm for the full two hours they say it can, and it might not be able to be reused indefinitely, even with normal use. Normal use will have you bending and shaping it against your body, and even though they say it's made of durable vinyl we wouldn't expect it to last forever.
Our Recommendation
There aren't too many products that we've seen that do what this does, which is why we're leaning towards getting it rather than passing on it. Having something that heats up so quickly, can be taken anywhere, and can be reused a number of times is not only a good bargain but also very convenient and soothing at the same time.
What do you think? Does Red Fusion Heat Wrap work or not?