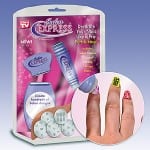 Having beautiful nails is great, but having to go to the salon is not, so Salon Express hopes to bring this experience home. By developing a system that makes it easy to apply intricate designs to the top of your nails, the makers of Salon Express hope to get a piece of the market from other nail decorating kits.
Overview
Going to a salon to get your nails done can be expensive, especially if you want something unique and out of the ordinary. The more complicated your design is, the more you can expect to pay for it. If you want to turn heads and get people to ask you about your nails, you can expect to pay a pretty penny for the privilege. But painting your nails is not rocket science, it's just that most of us don't have time to perfect the skill, or the artsy ability to make unique and complex designs.
The Claim
Salon Express, as the name entails, claims to give you a salon-quality set of designer nails in a short amount of time, in the comfort of your own home. It accomplishes this by using a set of stencils that can be used in combination with each other to produce some pretty amazing results.
The Hype
Having unique designs on your nails is a sure way to get attention and spark a conversation. Many people notice when nails look really good, and your girlfriends and even total strangers will ask you where you got such great nails from. Since Salon Express is promising to give you the ability to do this on your own, it gets some built-in hype, as any girl or woman that enjoys having her nails done would jump at the chance to save money and look good at the same time.
The Cost
The cost is what Salon Express is hoping to win people with. Compared to getting a set of nails done at an actual salon, the low price of around $13 is very appealing. Since you use your own polish, those costs are controlled by you. If you want to use the cheapest nail polish you can find, you're welcome to, but you can also use the fancy stuff as well.
The Commitment
One drawback to Salon Express is that you're losing out on the pampering that comes with going to the salon. Having your nails done by someone else is a lot of fun, and can make you feel like a princess or a queen. When you are the one responsible for doing the work, this aspect goes away, and you might get a little frustrated if things aren't going exactly the way they show in the ad.
So you have to be committed to doing a good job for yourself. You have to focus. Just because it says express in the title does not mean that you can just speed through the steps and expect top-notch results.
It is fun to invite a friend over and to put designs on each other's nails. This brings back some of that pampered effect of the salon, and makes it easier to work the stencils, creating better results, and an overall better experience.
Evaluation
Salon Express gets mixed reviews, with some women saying that it works like a charm right out of the box, others saying it's a total disaster, and others saying that it just needs a little trial and error time allotted to it. A product like this will usually get mixed reviews, because it involves people doing rather delicate work, which leaves plenty of room for user error and frustration, which leads to negative feedback from impatient users.
Here is one user showing their first attempt at using Salon Express:

You can see that the kit itself is simple enough. It's just a series of stencils that takes the guesswork out of the process and makes it as foolproof as possible.
Common Complaints
Some of the common complaints from people that say it doesn't work are due to the fact that they are not using the device properly. There is a blue film that is in place during packaging and shipping, and if you fail to remove this before using it the first time, you'll get poor results. Feedback says that as long as you remove this first, it works as described.
The other complaints all stem from users that expect the Salon Express to work wonders, without them having to do anything or applying any sort of skill at all. Just like any new thing you try you have to give yourself time to acclimate to it. The advertisements will make it seem like anyone can start using it perfectly right from the first application, but this is not true. Give yourself some time and take a relaxed approach when learning how to use it.
Final Salon Express Review
Although the Salon Express has been given its share of negative reviews from users, we are giving it our seal of approval because it does seem to work correctly if it is used properly. Most negative reviews can be dismissed due to user error, and those that have used it the right way have reported that it does what it says, and have showcased their completed nails, which look great.
Our Recommendation
Grab a Salon Express kit and invite your friends over for a nail decorating party. It's a way to have your own salon in your own home, but keep in mind that it will take some learning and some getting used to. Don't expect the first time you use it to be a nail pro, so don't use it for the first time right before an important date or event.
Salon Express is a direct competitor of Konad, a similar nail-stamping kit that gets better reviews from the majority of users that try it. There's no reason not to get both of these kits because each of them is reasonably priced, and they can work with each other, each with their own strengths and good features.
What do you think? Does Salon Express work or not?