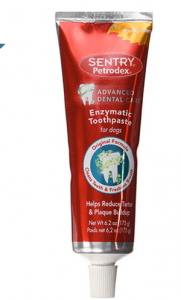 Owning a dog is a great experience. It is also something that costs some money. At the very least there will be the vet bills that deal with care as preventative medicine. These can be quite costly. Part of this care includes good dental health for the dogs. Something that can help with this and perhaps keep the vet bills down in regards to dental care is Sentry Petrodex.
Overview
Sentry Petrodex is an enzymatic toothpaste for dogs. It has a chicken flavour base to it, so the dogs don't mind the taste. When used as directed and diligently over time it may help to reduce the plaque that can build up on the dogs teeth as well as help to prevent bad breath.
The Claim
The promoters of Sentry Petrodex claim this product helps reduce the formation of plaque and tartar. It is non-foaming and is safe for the dogs to digest. It can also help with bad breath, and the dogs love the poultry flavour.
The Hype
The hype for Sentry Petrodex is that there is an at home type of treatment for helping with the dental health of the canines.
The Cost
The cost for Sentry Petrodex is $6.7, and it is recommended to use two to three times per week.
The Commitment
The commitment comes with getting the dog to accept teeth cleaning. Starting when they are young as a pup may make this easier. However, many dogs don't mind the process even when they are older once they get used to it. It is up to the dog owner to be patient while teaching the dog to accept the teeth cleaning. Some use a special toothbrush for dogs, while some use a piece of gauze wrapped around their finger to which they have applied a small amount of the Sentry Petrodex to it. Then it is a matter of gently rubbing the teeth of the dog with this. Each dog owner will have to find the application that works best for them.
Evaluation
There is no doubt that when it comes to oral hygiene for dogs that this can get expensive. Especially if it goes beyond preventative medicine and some type of treatment is needed. The vet will perform teeth cleaning, but if this can be done at home in part, then it will help to reduce some of the costs and perhaps some of the trauma for those dogs who don't like to go to the vets.
Final Sentry Petrodex Review
We are prepared to give Sentry Petrodex a thumbs up. It is a proven product on the market with 3,131 reviews on Amazon giving it a 4.5 out of 5-star rating. 77% have given it a 5-star rating. The price is reasonable, and it is safe for the dogs. It is definitely a product that meets a need for dog owners. There are other products like products they can chew, but some dog owners worry about the weight that their dog may gain from constant use of these. Then another concern with the chew type teeth cleaning products is that some dogs actually destroy these and may eat parts of it that they shouldn't.
Our Recommendation
If you are not interested in using a doggie toothpaste and would prefer a chew type teeth cleaning approach then check out Brush N Play.
What do you think? Does Sentry Petrodex work or not?