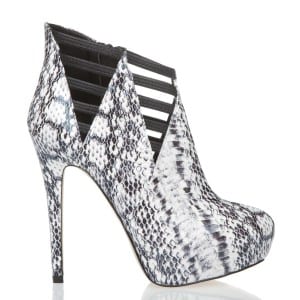 ShoeDazzle was started by Kim Kardashian and is a way to get a new, stylish pair of shoes delivered to your door for just $40. The idea is that you tell them what kind of shoes you like, and they'll have stylists show you trendy new selections each month. If you're like Carrie from Sex and the City you probably think this sounds like a great idea, but does it really work out for those that use it?
Overview
The concept here is that you tell them about the sort of style you like, and they will match your offerings to what you tell them in the quiz they give you. If you're a little bit style impaired, this can be a great way to have someone present you with different looks, all under the same umbrella of what you like. It's a solid business model, as many of us don't really know what the next big thing is in fashion, and are too busy with life to be attending fashion shows. This is a way to look good in new styles without investing hours into keeping a finger on the pulse of what's hot in Paris and Milan.
The Claim
ShoeDazzle claims that by taking their quiz they'll be able to determine your "personal style profile" and then will put their team of designers to work on finding you shoes, purses, and accessories that match that profile. So how well this works is really dependent on how well you think their profiling quiz is, and whether or not you believe that they really have humans making the picks, or if the site is just designed to give you an assortment of styles no matter how you answer the questions in the quiz.
The Hype
The hype is that this was started by Kim Kardashian, a walking hype machine. But she is also known for her style, and she has to be looking good 24/7 because of all of the different reality shows she's on and events she goes to. No matter what your personal thoughts are towards her, she's definitely established herself as a businesswoman in the fashion industry, and the fact that she's listed as the chief stylist only creates more hype for the site.
The Cost
The cost of items starts at $40, which includes shipping, and some of them can be more than $40, depending on the designer and the materials used.
The Commitment
It used to be that you were signing on for a monthly commitment, but they've since dropped this flawed business model and you now don't have any monthly charges involved in using it. This allows you to shop stress free, and only buy things when you really want them. It was a great move on their part, and something that will appeal to most new users of the site. It shows that they stand by their items enough not to force you into a recurring payment. Now they have to offer you items that are so irresistible you just can't help ordering something every month.
Evaluation
ShoeDazzle used to be set up so that they charge you monthly and ship you an item, and would even charge you without shipping an item. Now they've changed their system for the better and simply update your showroom every month, giving you a new sampling of products all tailored to your tastes. This is a much better way to do business, as it keeps customers and potential customers coming back to the site every month, but doesn't upset anyone by charging their card every month automatically.
The items that they have on offer here are really fashionable, and not something that you'd find in many parts of the United States, especially more rural areas. This makes it a great choice for those that live a little cut off from New York and L.A. but still want to look good wherever they are. One thing we liked is that they make it pretty easy to return items that don't fit correctly, by giving you store credit on anything you return within 30 days. This allows you to choose a different item if you simply didn't like the one you got, or get the right size if you didn't order the proper fit.
Final ShoeDazzle Review
A lot of women say that they like checking in on their ShoeDazzle showroom each month, and they also like that they're not under any obligation to make a purchase. Another feature they are happy about is the price, since most items come in at about $40 with some items costing more. This is a great way to stay on top of the latest trends, without having to be involved too much with the fashion industry.
If they wouldn't have updated their ordering process, we would have recommended against going with them. But not that they are doing things the right way, we are giving ShoeDazzle our Thumbs Up review, and giving the green light on creating your own showcase. They just need your email address and zip code to get you started, which isn't much to trade for style suggestions.
Our Recommendation
It's free to use ShoeDazzle and have them set you up with your own personalized showroom, so we say why not give it a try? The worst thing that happens is you don't like anything they show you, and the best thing that happens is you have a new, trendy pair of shoes for less than $50. Not a bad deal, no matter how you cut it.
What do you think? Does ShoeDazzle work or not?