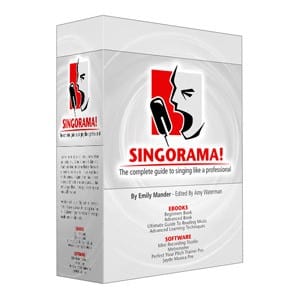 If you've ever wanted to belt it out like they do on American Idol or The Voice, you have probably considered getting something like Singorama. This is an at-home voice coaching system that promises to have you singing like your favorite celebrities, without having any prior voice training or experience. It seems pretty extensive, with over 28 audio modules and software to help you analyze your progress, but can you really get coached at home on your own, and at your own pace?
Overview
It's no secret that the best singers in the world all have voice coaches to help them hit their notes properly. True, some are born with a lot of raw talent, but they recognize the need to take that talent and make it the best it can be through training and vocal exercises. If people have been telling you you have a good singing voice all of your life, you might owe it to yourself to hone your talent and see how far it can take you. Or you might just want to be able to sing better for your own personal enjoyment, with no big aspirations to win a singing competition. Your reasons are your own, but either way, you should develop your talent fully.
And if you don't have a knack for singing, and people have told you you're basically tone deaf, there's still hope for you yet. You can learn to sing even if you're voice doesn't sound very good at the moment. Maybe you won't shock the world with your talent, but you can raise your abilities to the point of being a pretty good singer.
The Claim
Singorama promises to add an additional octave to what you can already sing, and also says you'll be able to hit notes that you can't currently, and be able to hold them, and have them sound good. They make several dozen more claims on their rather long pitch page, like hitting notes with professional precision, helping people with absolutely no experience, and they even say you'll be able to get the benefits of their program without spending hours and hours practicing.
The Hype
The hype comes from so many reviews of this product, both the long line of testimonials at the official sales page, but also third-party reviews from affiliates that are trying to get your to buy it. You've got to cut through all of that to get to the real meat of what this offers and find real user experiences of those that have bought and tried this out.
The Cost
If you go with the digital download, which is the option we recommend if you're going to get it – the cost is $100. This gets you all 28 audio lessons, as well as the software needed to record your voice, play it back, and see where you're excelling and struggling. This gets you access into your members area where you can keep track of all of your activities. The best part is that unlike other options that require a recurring monthly membership, this is a one-off payment that gets you lifetime access to everything.
The Commitment
The commitment level will really depend on your goals and dreams. If you want to be the next Carrie Underwood or Chris Daughtry you'll have to commit to practicing every day for several hours, and taking strategic steps to try to enter into the music industry. If this is just a fun hobby that you enjoy, you can dabble in it as much or as little as you want.
Evaluation
They have really produced a comprehensive program here, combining many different products into one package, that should give you what you need to start analyzing and improving your singing voice from day one. The software they include alone would be worth the purchase price, but the training is where the real magic happens. By starting off basic and building a foundation, they don't just rush into things and complicate the process.
Real feedback from actual users has been mostly positive. Some people of course have said that it doesn't work for them, but what does that really say? With something as subjective as this, there's really no reason to base a decision off of any one review – positive or negative. There's no way you can no what sort of situation that individual is coming from. You have to look at the overall trends and statistics to see what the consensus is. For Singorama it's positive, even when you trim away the BS affiliate ratings and the testimonials from the source.
Final Singorama Review
Singorama is one of those rare products that really over-delivers. They've covered a lot of ground with this package, and there aren't a lot of other programs that come close to what this offers at this price point. If you've been looking for a way to take your singing to the next level, this is a good place to start. Will it be the end-all be-all to your singing career, and get you a recording contract? Probably not, but it can be a big step on your journey of one thousand steps.
Our Recommendation
We recommend getting the digital download option and setting aside several hours to get familiar with all of the things it entails. The first thing you should do is set up the suite of software that comes with it, so you can set up your own mini recording studio on your computer. Once that's in place and you've played around with the different features, you can start your training with the first audio course. That way you'll be able to save your sound files in your studio from day one, and hear your progress. Sort of like a before and after picture for the ears.
If you give it a go and it's not for you, you're protected by their 60 day guarantee, so you're really risking nothing here to give it a try and see what sort of effect it has on your vocal performance.
Tip: Try to close the window and you'll get a special offer to try it out for just $1, that way you don't have to make the initial outlay of $100.
Official Website: Singorama.com
What do you think? Does Singorama work or not?