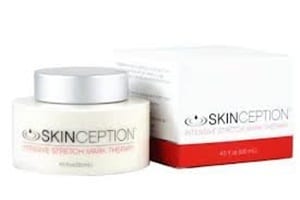 Having to deal with the whole gambit of potential skin problems that face us is no fun, but when it comes to dealing with stretch marks these are a real challenge. Lets see if the Skinception Stretch Mark Cream can help.
Overview
Stretchmarks can occur for many reasons and on different areas of the body. The causes can range from giving birth, to being overweight, or even as a result of hormone changes. What they actually are is a tearing of the skin, which then heals and leaves a scar type residue. This cream touts the ability to be able to reduce the unwanted looks of this type of skin issue.
The Claim
The makers of the Skinception Stretch Mark Cream claim that their product can reduce the appearance of this marks by 72.5% within just two months. They say that it can help to restore the necessary collagen and elasticity. Plus, it will fade the discoloration that the stretch marks contain and help to even out the skin tones. It is promoted as also being able to smooth out the furrows and striations. If the product is capable of all it is said to do, then yes there should be a significant difference in the appearance and feel of the stretch marks that you are dealing with.
The Hype
When it comes to the skin it is easy to create the right type of hype that is going to draw the consumer's attention. If the product claims to be able to enhance the appearance and reduce the unsightly results that stretch marks produce, then the marketers have aptly addressed the pain points of those who have to deal with this type of condition. Also, the timing of the hype is important. Most often during the winter months the areas where stretch marks are most prominent are usually hidden with the winter clothing. In the warm weather its a different story. Those who have stretch marks are often limited to the types of attire they can wear because they are embarrassed with the marks that will show. Being able to produce favorable results like the hype for this product pertains to in a relatively short period of time is another strong marketing feature.
The Cost
The cost may vary slightly depending on where you order the Skinception Stretch Mark Cream, but you may find an offer where you are offered a free jar with some packages. Remember to read the offer carefully though as quite often you are actually opting in for future deliveries of the product for which you will be billed.
The Commitment
The biggest commitment you are going to have to make is to be realistic about the results. If you are thinking that your stretch marks are going to totally disappear that is not likely. Being as you are unique, so is your skin and how it responds to a skin therapy such as this will also be unique. This is why some individuals get better results than others. You will need to decide how much of a reduction in the appearance of your stretch marks would you be happy with then look for those results to determine whether you think this product can reach those expectations.
Evaluation
We always have to be wary of the promotional hype that goes with any product particularly with those that tout their ability to improve your appearance. Stretch marks are really a complex and distressing problem for those that have them. The first thing that we liked about this product is they were upfront with their claims, by not indicating they had the total solution. They are not claiming their product gets rid of stretch marks, but claim that it significantly reduces them.
Final Skinception Stretch Mark Cream Review
We are going to give this stretch mark cream a Thumbs Up Rating, but only for those who really understand that the results may vary per person. The promotional material is packed with a lot of extensive information regarding the studies related to the active product ingredients. So you can determine for yourself whether the product contains compounds that could be potentially beneficial to the degree of your stretch mark scars. The second significant factor that led us to trusting the promo material of this company is that Skinception highly promotes other products that they have spent a lot marketing money on, and it is unlikely they are going to harm their credibility with an inferior product. We actually did a review on their Skinception Argan Oil product.
Our Recommendation
If you really don't understand what stretch marks are and what causes them, then the first step is to learn a little more about this. This will give you a clearer picture as to how you should set your expectations regarding this product.
Official Website: Skinception Stretch Mark Cream
What do you think? Does Skinception Stretch Mark Cream work or not?