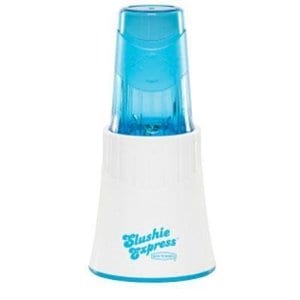 If you're looking for a solution the summertime blues you might have a winner with the Slushie Express. It is a special blender designed just for one thing, to make slushies. It does this with a 200 watt motor that should be able to crush through ice and give your beverage that slushy consistency. But we live in the real world here at Does It Really Work?™ and we know that sometimes products don't live up to their promises. So let's explore a little more in-depth.
Overview
The quest for the perfect slushy is not one to take lightly. If you go with the wrong method you're going to end up with inconsistent results and end up having to go to 7-11 anyway. You've got to get it right, or there's no point in trying. Getting a dedicated machine like the Slushie Express shows that you're committed to the quest and that you're serious about your slushy. Most of the people that have tried it out, have said that it works as advertised.
The Claim
The claim is that you can make slushies at home in under a minute. It's pretty much just a matter of adding ice cubes to your beverage of choice and then blending the heck out of them. Instead of a regular blender with multiple speeds and functions, the Slushie Express is designed to just make everything into a slushy.
The cup is reusable, and it includes markings on it so you know where to fill it up with your beverage and how much ice to include.
The Hype
The hype comes from the fact that not everyone can be right. Slush Mug says that you can't get a decent slushie experience from a blender, because it involves mixing your beverage with ice, which waters it down. We tend to agree, and that means that your results will probably not be as good as some of the non-blender methods available.
The Cost
For a little over $20 you can have your own Slushie Express and try it out for yourself to see what kind of slushies it makes. So many people like so many different kinds of slushies that it's hard to tell whether or not a system will work for the type of slushy you want to make.
The Commitment
There isn't a lot of commitment involved because it claims, and people are saying, that it makes slushies in under a minute. That's pretty quick for a blender, since most blenders have trouble getting through ice, and when they do they don't make it nice and smooth it usually involves a bunch of ice chips and ice particles. When you want a slushy you don't want to be crunching on ice, you want to have that perfect texture where it's just cold enough to solidify, but not to the point of becoming ice, or else we'd call them icies.
Evaluation
It seems to work well enough, but there have been complaints from buyers that their broke down after only a few uses. Part of the manufacturing process involves a few duds, which should be replaced by the manufacturer, and shouldn't be included in the overall review of the product. The other feedback coming in for Slushie Express has been overwhelmingly positive, and there are enough reviews so that it's statistically significant, and we can say that yes, it does in fact work for the majority of users.
They've put some good innovation into the design, the way you blend your slushy right in the cup, and then pop the top on it and it's ready to go with the straw included. One drawback is that the cup doesn't seem very insulated, so your slushy will start to melt almost as soon as you put it in there. This means you'll have to drink it rather quickly and risk getting the dreaded brain freeze.
Final Slushie Express Review
Slushie Express is a fun addition to the home, and can make getting through summer a bit easier. Whether it's just for yourself, or if your whole family is going to join in on the fun, you can't go wrong here because it makes slushies so quickly. At a little over $20 you're looking at a pretty good investment if you just use it about $20 it will have paid for itself. Most slushy lovers can see themselves using it daily or multiple times a day during the summer, so not a bad purchase, especially for families.
Our Recommendation
You might want to consider the Slush Mug, as it has a better concept, no breakable parts, and makes thick and creamy slushies just like you'd get from your local convenience store. Since it doesn't use any ice, you don't get a watered down consistency and your slushy will actually taste better.
What do you think? Does the Slushie Express work or not?
[kkstarratings_custom_footer]