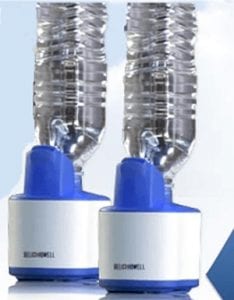 During the winter months when we are stuck indoors the air can get really dry and stuffy. This is where a personal dehumidifier like the Bell & Howell Sonic Breathe could come in really handy.
Overview
The Sonic Breathe is a compact personal dehumidifier that is lightweight and portable. You can easily put it in any room and it is quiet to operate. You can take it with you wherever you go and it comes with a handy travel bag. It operates off a standard bottle of water and will add a comfortable amount of moisture to a room for up to 12 hours.
The Claim
The Company claims that its compact size makes it an easy choice for the elimination of dry air. It can be used in any room and helps to bring relief from the symptoms that dry air creates. These are symptoms like stuffed up sinuses, congestion, coughs and a bloody nose, that all can occur from the air being too dry. They are saying that just one bottle of water used in the Sonic Breathe will hydrate the air of the room for 12 hours.
The Hype
The hype focuses on the ease of being able to take the Sonic Breathe wherever you want to go and the easy set up. It also focuses on how it can be controlled to hydrate just the personal space you are in, or the entire room. So if others are with you that don't want more humidity in the air, its no problem with the adjustable settings. It is ideal for kids rooms too and has a built in night light.
The Cost
The Sonic Breathe costs $29.95 and $7.95 for shipping. If you add an extra $7.95 to your order you will get a second Bell & Howell Sonic Breathe. The bonus is a carry case for the unit.
The Commitment
You will have to remember to keep a good supply of bottled water on hand as this is what the unit works off of. Don't forget it would be ideal for the office or work environment too. So if you are just buying one unit then you are going to have to remember to bring it back and forth each day. You can easily solve this problem by buying the second one for the cost of the shipping.
Evaluation
Dry air is really hard to deal with and most heating systems do provide some relief but often it is not enough. Or sometimes individuals are just more susceptible to the dryness that is present. A portable unit like the Sonic Breathe may be the ideal answer. Also, while the symptoms of dry air are annoying don't forget how dry air affects your skin. So having the extra moisture present is a real bonus here.
Final Belle & Howell Sonic Breathe Review
We are going to give the Sonic Breathe a Thumbs Up rating. It is made by the reputable manufacturer Belle & Howell. The unit is reasonably priced and really easy to use.
Our Recommendation
Whether you choose to go with the Sonic Breathe or not is of course your choice, but if you are dealing with dry air issues then you need some type of solution. An alternative to this is another product that we looked at in the past called the Aqua Stone. It works a little differently but with the same concept. It has received a lot of thumbs up, but there have been some thumbs down as well, so it's worth taking a look at then comparing this two potential solutions to the dry air issues.
What do you think? Does Sonic Breathe work or not?
[kkstarratings_custom_footer]