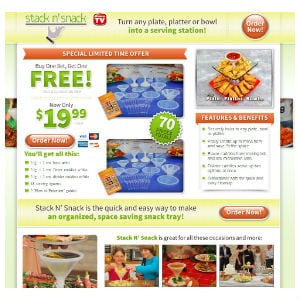 The Stack N Snack is a snacking serving station that says it can change the way you present your snacks during game time, party time, and any other time that calls for snacks. But how well does it work at showcasing snack foods?
Overview
Most people are probably pretty content with the conventional ways of presenting snacks, either on a tray or in a bowl. This represents a product that is going to have to create a need first and then present itself as the solution. If you saw the infomercial on this and were compelled to find out more, they've apparently done their job and now need to convince you that it actually works like it's shown to.
The Claim
Stack N Snack comes with a total of 70 pieces, so if that's not enough to get the job done, you're probably feeding snacks to a virtual army. The main feature that is touted is the tiered action, which elevates the dip away from the chips, crackers, or other dipping food, making it easier to access and a shorter trip to your mouth. They say that this can save you up to three times the space, and that with the included dividers you can serve up multiple dipping options in the same bowl and they won't intermingle. They also say that it's easy to clean because it can all go in the dishwasher.
The Hype
We all want to provide the best to our guests and come out looking like a great host or hostess, and that means bringing to the table something new that people haven't seen before. If you like to entertain and find that you are always in need of the perfect serving tray, there isn't much hype to this. But if you don't entertain very often and this commercial has you thinking that these trays will cause you to have more parties, you might be overstating just how much these will change your life.
The Cost
Stack N Snack is sold in the buy one get one free, just pay shipping format, so you start with a price of $20, tack on two $8 shipping fees and your new total is $36 all together. You may wonder why you need a 70 piece set, and why a 35 piece set isn't enough to get the job done. This is a classic method used by manufacturers to try to move more of their product per order, and end up with a higher order total. It also means that in the event of a return they only have to return the original purchase price.
The Commitment
This is going to be an easy product to have in your life if you're all about the snacks. It's great for big games, but also for those times when you're bringing a dish to a potluck dinner, or visiting a friend's party and bringing a snack. It makes things easier for your party guests, as the dip is raised up making it easier to scoop some up.
Evaluation
It's important to point out that Stack N Snack is meant to be used with your own bowls, plates, and trays, and that it doesn't contain these things but instead sticks to them and creates the tiered effect. If you don't already have suitable trays and serving dishes, then you may need to get some in order to get the best results with this and replicate some of the set-ups they show in the infomercial.
While there may be a lot of pieces, most of them are serving spoons, so you're really only left with a few of the base units that hold up the food, and a few of the dividing units that allow you to serve multiple dips. But really that's all you need unless you are trying to create a big spread, like for the Super Bowl or other big event where snacks become the centerpiece of the table.
Final Stack N Snack Review
Stack N Snack is getting our Solid Try rating, although we wish it was priced differently. $36 seems a bit much for some snackware, and unless you're hosting a huge gathering it likely comes with more than you'll need. But if you want to be prepared for any sized event it would be nice to have this so you can serve up just about anything to a crowd of any size.
Our Recommendation
There aren't too many products competing to be king of the snack trays, so if you want some serving trays that are exclusively for snacks, this may be your best bet. If you don't currently find yourself serving a lot of snacks, this might not be the product for you, as you'll want to already have your own snacking trays and bowls, using these to elevate the dip for easier access.
What do you think? Does the Stack N Snack work or not?
[kkstarratings_custom_footer]