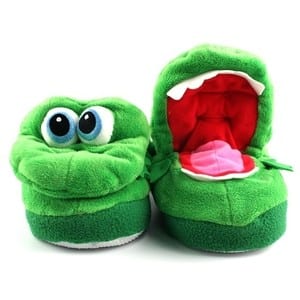 Stompeez are one of those feel good items that is pretty silly, but fits the right personality just fine. They're attempting to add some pizzazz to slippers and make them more fun to wear around the house. Which is a good thing, because you probably wouldn't want to be seen wearing them. But are they really as fun as they're shown to be in the ads?
Overview
When it comes to colorful slippers with extra features, these might be the winner in both areas. There are other slippers out there that claim to be soft and comfortable, and also ones that have unique designs on them, like all of your favorite characters, but Stompeez are pretty much creating their own line of slipper characters, each with their own function they perform when you walk or jump.
The Claim
Stompeez claims that their slippers are extra soft, extra comfortable, and extra fun. They say that they are built to last, which you'd hope so since you're encouraged to stomp in them. When you compare them to things like Happy Feet slippers they've got to be able to compete with some really comfortable slippers, yet
The Hype
These things are hype central! The TV ad gets a lot of airplay, and they're hyped up to look like they're so much fun it's amazing that everyone in the country doesn't own a pair already. But really they don't need a lot of hype, because if you want a pair you'll get a pair, there's no two ways around it. There aren't a lot of people that see them and are on the fence about them, and if you're kid has been bugging you about them, the ad did its job.
The Cost
Stompeez are $27 which includes shipping. They don't have any phony buy one get one "free" offers and don't make you order more than you want. They do have a mystery gift you can tack on for $7, with confirmed reports being that it's a second Stompeez, randomly selected. They come with a 60 day money back guarantee, and since the product price far exceeds the shipping price, they seem confident that once you get these, you'll end up keeping them.
The Commitment
All that's required is to replace your current slippers with these new fun slippers and you're all set. It does make it a fun way for your kid to start the day. As they stomp their way to the breakfast table after waking up they will see their slippers flopping away and won't be able to help but feel good about the day's prospects.
FYI: Some people have complained that it takes a while for these to ship. They say right on their official website that it's going to take 4-6 weeks for delivery. So if you're getting these for a birthday or Christmas gift be sure to plan ahead, or wait until the next gifting opportunity.
Evaluation
It seems that an unlikely battle has emerged for the pop-up slipper market. Stompeez says they are the originator and companies like Silly Slipeez are trying to steal customers away by being confusingly similar. While the concept is entirely the same, the characters are different, so it's really a matter of which designs you like best. It's worth checking them both out to see which one has the character you or your child likes best.
Some people might make the case that in this consumer driven world people are led to buy most anything, and that consumerism has gotten out of control. But those people are really missing the point. Does the world need flopping popping slippers? No. But if it brightens someones day, or makes someone feel good for a little while each day, it's worth it. It's definitely something that your child or teen will outgrow one day, but for now it's fun to watch them get enjoyment from something so silly.
Final Stompeez Review
Let's be honest, your kids or grandkids probably won't start a conga line in their Stompeez, but that doesn't mean these aren't a great buy. They definitely work as advertised, are bright and colorful and soft, and make a lot of fun out of a usually mundane item. They're getting our Thumbs Up review based on the ease of the sales process, the quality of the materials used, and the fun factor that is present on each one.
Our Recommendation
These are just plain fun, and if your child has a zany personality it will be their new favorite thing for a while. Even if your kid is a little vanilla and you want them to liven up a bit these might do the trick, or they'll be a little too over the top for them. Either way, you're going to end up with a comfy pair of house shoes, and the popping up effect is fun when you want it to be and easy enough to ignore when you're not in the mood.
Read user reviews on Stompez
What do you think? Does Stompeez work or not?