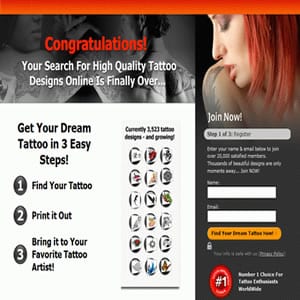 If you're having trouble picking a killer design for your tattoo, you could get some help from Tattoo Me Now. They claim to have over 8000 designs, and all you have to do is print out the one you want and take it to your local or preferred tattoo artist. They're pitching it as more of a tattoo community, with videos, forums, and custom designs to choose from, and help with your whole tattoo experience. But is it really something worth paying for?
Overview
Getting a tattoo can be a big decision seeing how you're going to have that design on you for as long as you live or as long as you can't afford to get it removed. So it's good to go through as many possibilities as possible, or even design your own. If you're not really the creative type, it can be hard to come up with something totally unique. That's why it's good to start with a design as a foundation and then change it, add to it, or take things away from it until it's uniquely yours.
The Claim
They claim to have thousands of tattoo designs for you to choose from, and they also claim to have over 60,000 members in their network. They say this makes them the largest and most popular tattoo membership site on the net. They back this up with their Alexa and ClickBank rankings, and are basically saying that they're more popular than Chopper Tattoo.
But they also claim that they are also a place for you to find the tattoo parlor that will do the actual inking, as well as a place to learn about tattoos through instructional videos. In addition to their own galleries, they allow members to post photos of their own tattoos and design ideas, so you have access to even more ideas and inspiration. And they say their designs are more detailed than the competition and the quality of the scans is unsurpassed.
The Hype
The hype is that they're actually backing up what they say, and this may very well be the most popular paid destination online for tattoo fans, and even those that haven't gotten their first one yet, and need guidance.
The Cost
Even though they call themselves a membership site, you don't have to pay every month in order to stay a member. They have two options, an annual membership at $27 or a lifetime membership for $10 more. It's up to you whether you think you'll just use this to get your first tattoo done, or if you think you're going to get into this on a more long term basis and get more than one tattoo in your life.
Tip: If you attempt to close out the window a chat box will show up offering you the lifetime membership for $10 less, or the same price as the one-year.
The Commitment
Tattoos are all about commitment, and it's OK to have hesitation or a lot of questions about the process if this is the first one. It's not something you and your friends will sit around and talk about, unless they're into it, so it can be nice to find like minded people with a common interest that can actually give real advice.
Evaluation
What we liked about this is that it's not just a gallery of images, but really a membership site for tattoo enthusiasts. It can be a bit boring just going through page after page of designs, with no one to bounce your opinion off of. With Tattoo Me Now you can post questions on the forum, like getting people's opinion before you get inked, so you're not stuck with a permanent mistake. Of course, in the end it doesn't really matter what people think of your tattoo besides you, but it's always nice to know that it will get the reaction you're going for, before actually getting it.
Tattoo Me Now listings of different tattoo studios, and there's probably one near you that's been reviewed and recommended by other forum members. You can also get pictures from other members from different tattoo studios so you can make up your mind where you want to get it done if you don't already have a place you go to. It can be hard to find a good place, and the yellow pages just aren't a good place to start your search.
Final Tattoo Me Now Review
We're giving Tattoo Me Now our Thumbs Up rating, based on all of the positive feedback from actual users, not just those that are paid to endorse the site, or are trying to get you to click on their affiliate link. Real people that have tried it out and used its features have said they are happy with it. Of course there are those out there that didn't like it, either because they weren't able to find a design they liked, or they just changed their mind about getting a tattoo.
Our Recommendation
With the money back guarantee in place, it doesn't hurt to take a peek inside and see if you like any of the designs they have. Get involved in the forums if you want, and get all of your questions answered. It can be a great resource if you have a lot of unanswered questions or fears about getting ink done. If within 60 days you find that you don't like it, just ask for a refund and no harm done.
Official Website: TattooMeNow.com
What do you think? Does Tattoo Me Now work or not?