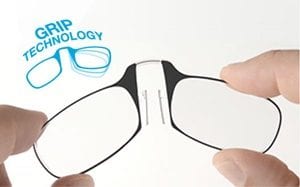 There are a lot of people who really only need glasses for reading. In these cases they will often just pick up a standard pair from their local pharmacy or general store. These are great because they are cheap and work, however there may be something a lot more convenient and that's the Thinoptics.
Overview
The lens of Thinoptics is really no different than those standard reading glasses that you would buy at your local store, but what is really different is the frames because basically there are not, and the glass for the lens is super thin. Other than the framework that is needed to hold the glass in place and the piece that bridges your nose there is nothing else in the framework of these glasses. There are no annoying side pieces that you need to slip onto your ears to hold them into place. To describe them the best they almost have the same style as what clip on sunglasses have except you are not clipping them onto anything. Thinoptics has a universal size setting that is comprised of their grip technology which hold the glasses firmly in place on the bridge of the nose with a soft but firm comfortable grip.
The Claim
The owners of Thinoptics claim that what framework there is to these glasses is feather light. The lenses are full size and shatterproof. They are really comfortable to wear because of their light weight and the nose grip is really gentle on the nose area where they are kept in place. The case that is used for the Thinoptics is super thin and lightweight.
The Hype
The hype really comes around the convenience of these glasses being so compact and lightweight which makes them really easy to store when you are not using them. Being as they are reading glasses it means that you are not wearing them all the time, so throughout the day you are taking them off and setting them down like you would do with regular styled reading glasses. The problem is that usually these type of glasses get lost or forgotten about and people end up having to buy several pair over time because of this. The Thinoptics addresses this problem because they are so lightweight that the Thinoptics case easily fits into your pocket, wallet or purse. You can even clip it to the back of your smartphone.
The Cost
If you order the Thinoptics you get the glasses plus the carrying pod for $19.95 plus shipping and handling(which is determined when you check out). You also get a second pair of glasses free. There are other options for buying a phone case or a keychain case. Plus the Thinoptics come in a variety of frame colors.
The Commitment
The first commitment you are going to have to make is to print off the eye chart so you can determine which strength of reading glasses that you are going to need. Thinoptics comes in four different strengths.
Evaluation
Thinoptics is a good choice in reading glasses if you are always losing yours or forgetting where you put them. Simply because the case is so compact that you can carry it with you wherever you go so you can store your glasses safely and conveniently.
Final Thinoptics Review
Really Thinoptics is just a new approach to reading glasses that is based on convenience. It is a problem solver for those who lose their reading glasses or put them down and forget where they are. If these are problems that you are experiencing then Thinoptics would be a thumbs up for you.
Our Recommendation
A lot more attention is being placed on the needs for glasses which means more products are becoming available. Another product we looked at for those that normally would need glasses is Vision Without Glasses.
What do you think? Does Thinoptics work or not?