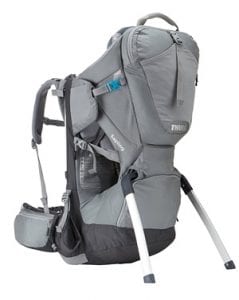 As a parent of a little one there are lots of items that you will need as they go through their growing stages. When they are little and you are out and about often you will need to carry them. To make this an easy task you may want to consider The Thule Sapling Elite Child Carrier.
Overview
Anyone who has ever wanted to take a nice long hike into the woods with their small child knows all too well just how difficult it can be to get a comfortable carrier that suits their needs to a "T". either the unit is too big or too small of just not comfortable at all. The Thule Sapling Elite Child Carrier makes this problem truly a thing of the past.
The Claim
The claim by Thule, the maker of some the best car luggage racks in the world, is that this Thule Sapling Elite Child Carrier literally does it all. It has exceptional features, many not found on similarly priced units.
The Hype
Much of the hype surrounding this product stems from the fact that the Thule Sapling Elite Child Carrier is made by Thule. Thule is a recognized leader in car carriers and thing of that nature and this unit contain all the quality that one would expect from any Thule product.
The Cost
The cost of the Thule Sapling Elite Child Carrier is $319.00. While this may seem pricey for a child carrier you have to remember that it I made by Thule and as the saying goes, you get what you pay for. Yes, there are much cheaper versions available but they lack both the quality and the features of the Thule. And one thing we never want to skimp on is the safety and comfort of our children
The Commitment
Other than the commitment to getting the kids into the great outdoors there is not much in the way of commitment required for the Thule Sapling Elite. It is a little bulky but should be no problems finding a space in the garage to store the unit when not in use
Evaluation
The Thule Sapling is truly a great child carrier. It has many great features such as the removable backpack portion that can hold a ton of diapers and other baby essentials. It also has a fully adjustable back panel and a hip belt that makes the transition between parents just a little bit easier. The included hydration pack can make all the difference when on a long hike. By having the hydration pack you no longer have to worry about carrying extra fluid for those long adventures in the woods or when out and about. The weight is fully distributed making for a very comfortable experience.
Final Thule Sapling Elite Child Carrier Review
If you prefer to carry your little one rather than push them in a stroller or for when a stroller is of no use like in the wood or camping this Thule Sapling Elite Child Carrier is like the Cadillac of child carriers. It has awesome features and is as comfortable as can be.
Our Recommendation
We love this Thule Sapling Elite Child Carrier and the only complaint we can come up with is that it was not around when the author's children were small enough to fit into it, other than that it does what it says it will do with both comfort and style! For another great resource if you have more than one little one you may be interested in the Baby Jogger Glider.
What do you think? Does the Thule Sapling Elite Child Carrier work or not?