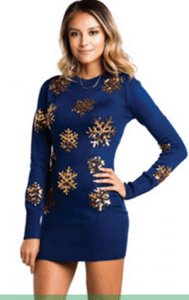 When the festive season arrives people soon get into the holiday mode. This is enhanced with the choice of clothing that they make. There are plenty of different pieces of attire that fit in most nicely with this very special holiday but one that has really taken the lead is Tipsy Elves.
Overview
Tipsy Elves is a clothing provider that not only produces attire for the Christmas season but has branched out into other categories. This includes attire for women, men and children and the family dog too.
The Claim
The claim made by Tipsy Elves is that if it is outrageous then there is a good chance it is produced by Tipsy Elves. They really have stepped it up a notch and when wearing a piece of their clothing you can bet you are going to get noticed. One may go back to the ugly Christmas sweaters but since then there has been a whole lot more happening.
The Hype
The hype around Tipsy Elves is they have something for every occasion and you can bet you are going to be pleased with the choices. Not only can you count on your choice being unique but you can count on the quality.
The Cost
The cost is all going to depend on which item you have chosen. For example the women's selection ranges from sweaters to dresses. For example the Fair Isle Dress sells for $34.95. Then there is this really innovative stocking sweater that is interactive. It has a stocking that is ready to be filled sewn to the front of it.
The Commitment
The commitment is going to be daring enough to wear any of the Tipsy Elves clothing to the occasion that you have bought it for. But you are going to find it so whimsical and amusing that you will be compelled to do so. Beside a lot of besides being out outrageous it is adorable and sweet.
Evaluation
The Tipsy Elves attire has received a lot of attention and over all most are pleased with their purchases. They find the quality very good, the selection amazing and the pricing really reasonable. Tipsy Elves has created a lot to choose from. At this time of year it is all about having fun. Most often many of the events are made up of parties. It is fun to have something different and unusual to wear and Tipsy Elves is the perfect choice.
Final Tipsy Elves Review
We are going to give Tipsy Elves a definite thumbs up. They really know how to put the fun in Christmas and you are really going to find something that is not your average store bought attire when you choose to buy from Tipsy Elves. Don't forget that they go way beyond Christmas attire and have something for almost every occasion that you can think of.
Our Recommendation
If you are looking for something else that is going to really brighten up your Christmas then take a look at the Tree Dazzler.
What do you think? Does Tipsy Elves work or not?