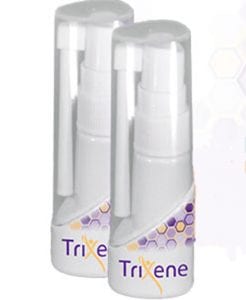 Chances are you are going to be hearing a lot more about mouth sprays that are supposed to help you lose weight. To get you started on learning about this new trend of weight loss we thought you might like to hear about Trixene.
Overview
Trixene is a oral spray that has been designed to help you lose weight. You simply spray the product in your mouth according to directions before you are ready to eat, or if you have a craving for sugar or salt.
The Claim
The marketing promo indicates that all you have to do is spray your mouth with Trixene, then go ahead and eat, and guess what! you will lose weight. Sounds amazing doesn't it, and it may lead you to think that this form of weight loss is some new and exciting discovery. However, this is not the only product being touted on the market as a weight loss spray. The marketers of Trixene say that it helps to control hunger and cravings. They go on to say that it could help you to lower your caloric intake without any dietary restrictions.
The Hype
There is no doubt that the promotional material for this product focuses on the wants and needs of almost every person who has a passionate desire to lose some weight as easy as possible without rigid dieting, complex food preparation,vigorous exercise or calorie counting.
The Cost
The present offer for Trixene is comprised of receiving a one time risk free trial. For $39.95 you will receive two bottles of the product which is a one month's supply and shipping is free. There are a few other offers as well like the VIP offer or the 90 day offer.
The Commitment
If you follow the marketing material it doesn't seem like you have to do much except use the spray as directed. Which is before you eat and when you get a craving for sugar or salt.
Evaluation
If losing weight this way truly was a fact it would be a wonderful solution for many people. Unfortunately it is really difficult to believe that simply spraying a product in your mouth is going to help you lose weight, but it may be a weight loss opportunity that we will just have to wait and see about. Of course there are always those in favor and those against when it comes to controversial weight loss methods. There are other experts however that do feel that some sprays of this type may have a beneficial effect on curbing the appetite so in turn could help to promote weight loss.
Final Trixene Review
We are going to give the Trixene oral spray for weight loss a Try/Buy with a few reservations. At first glance we were impressed about the clinical trial mentioned for Trixene where it lowered the caloric intake of its participants. Then when we checked out the section on clinical trials we found nothing specific there about this actual trial. There were many trials summarized there but when you look closely at them they are all trials pertaining to the specific ingredients that the Trixene apparently contains. The main reason we have gone ahead with our rating instead of giving it a thumbs down is because this product may be just what some people need to help them get their weight loss kick started. If it even helps to suppress the appetite a little then that may be all that is needed to spur the dieter on.
Our Recommendation
No doubt if you are dealing with a weight issue you are intent on trying anything that might help you achieve your weight loss goals. We urge you to really research whatever methods you are thinking of trying. Look at potential products like Trixene carefully and get past the hype and see what the logic behind the product is. There have been many different forms of weight loss methods promoted like weight loss hypnosis, for example. There will always be controversy over what works and doesn't work mostly because weight loss is a very individualized thing.
What do you think? Does Trixene work or not?