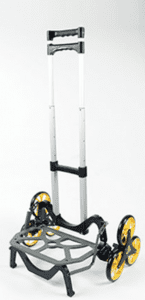 There are all kinds of carts on the market to make moving things around easier. The problem is they come with a lot of flaws such as being too big or too small, or too heavy even without loading them up with anything. Most are aware of the value of the two wheel dolly but there is something new on the market called the Upcart.
Overview
The Upcart at first glance may seem like a basic moving cart, but take a close look and you will see that it has six wheels. These are not for esthetic purposes but lends to the very impressive functionality of the Upcart.
The Claim
The Company claims that the Upcart works well on all terrains and is a breeze to use when transporting items up and down stairs.
The Hype
The hype really revolves around the fact that first there is no assembly required which is great. Then the second big feature is that it completely folds up for easy storage or for transporting in your vehicle.
The Cost
You can expect to pay $89.95 for the Upcart and while that may seem a little pricey compare it to other loading carts and then compare the benefits and features of this one, and you will soon seen that it is very reasonably priced. This includes free shipping and two bungee cords to hold your items in place when moving them.
The Commitment
There really is no big commitment to using the Upcart except making sure that whenever you have to move or lift something that you put it into action. There is a good chance that once you start using this for a few jobs that you are going to put it to many more uses.
Evaluation
It is so common for people to end up hurting themselves because they carry items that are just too heavy or cumbersome. Having a resource such as the Upcart to rely on for this really can be a great preventative when it comes to injuries not to mention how convenient it is. Another thing that we really like about it is that it fits nicely into the trunk or back of the car, which cannot be said for many of the other type of products designed to do this type of job.
Final Upcart Review
When you look at the Upcart and see that it is easy to navigate, its lightweight, and its portable then it really does peak the interest. Almost anyone can put this to good use both indoors and out. Not only is it a great item in the residential setting but is ideal for around the office. Even seniors can use it because of its easy navigation and will certainly help them move items that they normally struggle with. The Upcart has received some decent reviews and as you may have guessed is also sold on Amazon. The feedback here is comprised of a 3.9 rating out of 391 reviews. While the majority of reviews seem favorable there was at least one complaint that the feet were made of plastic and they broke. Another issue one person had was the wheels turning inward. So overall there are many things that we really do like about the Upcart but we are going to give it a Try/Buy review at least until more feedback becomes available.
Our Recommendation
This really would be a handy item to have around the house especially for the women who need to move things that they often have to wait for someone to help them with. Or, it would certainly make a great gift.
What do you think? Does Upcart work or not?