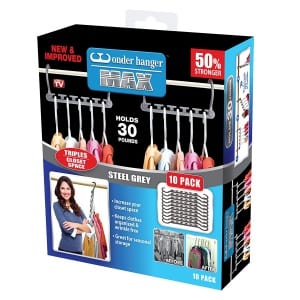 Most likely no matter how hard you try to keep your closets organized it is no easy task. There are plenty of different organizers on the market but perhaps one you may want to take a closer look at for keeping things organized is the Wonder Hanger Max.
Overview
The Wonder Hanger Max is a device that allows you to capitalize on more of your closet space that isn't being utilized properly.You simply hang your items in the slots then you can release one end of the Wonder Hanger Max so it hangs your items on the diagonal.
The Claim
According to the promoters of Wonder Hanger Max it can increase your closet space by 30%. Plus there is no more crushing your clothes into your closet space so everything remains wrinkle free. They claim it is super strong so you can even hang your heavier items with no problems. Each Wonder Hanger Max has five slots that you can use. So it is like being able to hang five items on one traditional hanger but without all the weight and crushing of the items.
The Hype
The hype around The Wonder Hanger Max is that it allows you to use space that normally gets wasted. It allows you to organize much more efficiently without having to invest in a lot of extra shelving or dividers.
The Cost
The cost of Wonder Hanger Max will depend on where you buy it from as it is available through several different stores including Amazon or direct through its promotion. For example, you may be able to get it at Bed, Bath & Beyond for $19.99, or you can get the Wonder Hanger Max package of ten from Amazon for $14.99.
The Commitment
Your commitment for the Wonder Hanger Max is to first organize the way you are going to hang the different types of clothing that you have. Then once you have done this the idea is to stay organized. While you are doing this it might be a good time to get rid of those items that you really don't use anymore.
Evaluation
The reviews on the Wonder Hanger Max certainly indicate that this is a much needed product and it has lived up to the expectations of many. Being able to increase your closet space without having to go to the expense or hassles of renovations is certainly a money saver. So overall yes there is a definite need for the Wonder Hanger Max and this product appears to be able to meet the needs.
Final Wonder Hanger Max Review
We are going to give the Wonder Hanger Max a thumb up rating. It has proven to be a winner on the open market. It is reasonably priced and it means that your clothes are being better taken care of when being stored so you are saving money there.
Our Recommendation
If you really want to make the most of your closet space then using the Wonder Hanger Max is one way, but another way is to also use the Shoe Go Round to help you capitalize on your closet floor space.
What do you think? Does Wonder Hanger Max work or not?