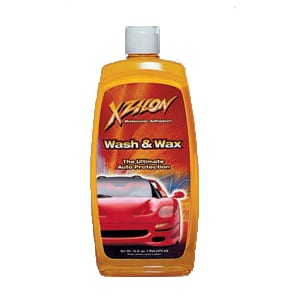 Xzilon is presented as a way to get your car looking and keeping it that way. It says that it works on a molecular level, and we've seen these sort of claims before for other car products, so does this one deliver?
Overview
It's only natural to want your car to look its best and to protect the finish from dings and scratches. Many times dealerships will try to upsell you on coatings for the underbody and the paint job, and many car buyers will say no simply out of reflex. But what if what they're offering actually makes sense, and works to extend the life of your car's paint job, potentially saving you from costly repair jobs later on?
The Claim
The makers of Xzilon claim that their coating does just that, protecting your paint and making sure that it's able to survive out there in the real world, a world full of runaway shopping carts, flying stones, and baking sun. It's a wonder paint jobs stand a chance in the harsh environment they're put into.
The Hype
Car fanatics are always on the lookout for products that will keep their cars looking in tip-top shape, but at the same time they have no patience for products or services that don't work. So while the hype is built up about this protective coating, consumers are doing a good job of weighing in and keeping expectations in check.
The Cost
The cost of Xzilon coating applied by a dealership will vary by dealer, but we've seen quotes around the $700 mark. The at-home version can be had for less than $100 and comes in a kit with everything you need in order to apply it. The costs might seem high, but the rationale is if it saves you from just one extra paint job, or one touch up done by the body shop, you'll have made your money back. Not to mention all of the time you get to drive around with your car looking showroom ready.
The Commitment
All you really need to do is commit to paying extra to have this applied to your car, if you go that route. You can also by the at-home DIY version and in that case you'll need to follow the directions to apply it yourself. This should only need to be one once though, and after that you can simply enjoy the benefits.
Evaluation
The feedback for Xzilon is mixed, but mixed in a way that paints a pretty clear picture as to its strengths and weaknesses. If you go the professional route and have it applied by an authorized dealership, you'll likely be very happy, as evidence suggests that it works quite well this way. If you buy it and apply it on your own you might be a little less than happy, with several users saying that it didn't live up to its claims and was a waste of time.
Whenever we see a split like this we try to determine what went wrong. In this case there are plenty of possibilities. Perhaps they're able to use a stronger formular when they apply it at the dealership. Of course they're likely using more sophisticated means of applying it so that they don't miss any spots, and that it gets an even coat all the way around. Once you reduce human error as much as possible you cut out a lot of the negative feedback. It may be a better idea for them to cut their consumer product line and simply stick to what is working consistently. They might miss out on some smaller sales, but the overall reputation of the brand would improve over time.
Final Xzilon Review
It seems like something is getting lost in translation when they try to make this available for at-home use. Xzilon applied at the shop seems to work well, and while it may be the more expensive way to go, in this case it's worth the extra expense. The consumer version just doesn't measure up, and if you're really concerned about your car's appearance it would be in your best interest to make sure that it is covered properly.
Our Recommendation
If you do go with this, be sure to get it done professionally. It's the surest way to know that you'll get the real deal, since only authorized dealers can offer it. It also saves you the time and hassle of doing it yourself, and from all reports we've seen is worth paying more for. You might also find that you have luck with other at-home protective coatings, but it's always nice to have things done for you by the pros so you know it was done right and you can put it behind you.
What do you think? Does Xzilon work or not?
[kkstarratings_custom_footer]