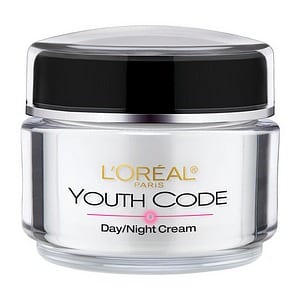 Youth Code by L'Oreal Paris is getting a lot of attention these days, not just from its TV promos, but also from positive word of mouth. But how well can this really work to turn back the clock and fight the signs of aging?
Overview
Everyone has their own hang-ups when it comes to aging and which parts of the face give them trouble. For some it's crow's feet, for others it's fine lines and wrinkles in the forehead. Since the face gets so much attention it's usually gets the most focus when it comes to battling back Father Time, and big skin care and cosmetic companies are producing new creams, lotions, and potions to help with the fight.
The Claim
L'Oreal claims that they collaborated with independent scientists to make their Youth Code line of products. They also say that this represents ten years worth of research into genes, specifically how younger skin reacts differently than older skin to daily stresses and outside influences. They claim that their serum is oil-free, and has a higher concentration of effective ingredients that will boost your skin's appearance and vitality.
The Hype
Youth Code has its own nationwide ad campaign going on right now, and this is providing all of the hype needed. It's also sold in stores, so they can benefit from brand recognition, and the subliminal effect of repeatedly seeing the ad on TV and then automatically reaching for it when you see it on the shelf. Most people have learned to take the claims made on anti-aging products with a grain of salt.
The Cost
You can pick up a three-pack at Amazon for $22. This includes a moisturizer that has an SPF sunblock for daytime use, a morning and night cream, and an under eye treatment that is supposed to reduce puffiness and dark circles. There are also other products in the line-up that come with a heftier price tag. They've got a Dark Spot Serum Corrector that goes for $20 all by itself.
The Commitment
When using skin care products, especially those touting anti-aging benefits, you'll want to stick to a daily regimen so that you can experience the full effects. Skin responds best to daily care that isn't too harsh and will reveal the results over time. Many times people are too hasty to try and fix flaws and their skin and attack the problem overzealously. This leads to irritation and other problems, and often doesn't provide the desired effect.
Evaluation
With such a diverse product range under the Youth Code label, you'd expect there to be a wide range of feedback. But from what we've seen almost all of their different products gets rated favorably by users. Any skin care product is going to have it's share of negative responses, because there are so many different skin types and skin conditions that there's no way L'Oreal can account for them all. But what's apparent is that the large majority of users give this the thumbs up, and say that it is providing the results they wanted, or at least performing to its price point.
L'Oreal has built itself into the largest cosmetics company in the world, and they seem to have built up a large following of fans along the way. Or course with all of the hits, there will be a few misses, and not all of the offerings are well-received. But the overall reviews for their Youth Code portfolio is positive, with users saying that the lotions go on easily and are effective. Some have said that it irritated their skin, or there was an allergic reaction, but these seem to be in the small minority. It may be a good idea to test it out on a part of your skin that isn't as noticeable to see how you react to it before spreading it all around your face.
Final Youth Code Review
We're giving Youth Code the Thumbs Up. The feedback on it is exceptional, and there is a strong chance you'll be happy with the results. Some have said that it is hyped up a bit, and while this may be true it's just a sign of the times that manufactures have to package and display products as if they will be life-altering just to make a sale. But what's really in play here is a decent line-up of skin treatment and anti-aging products that will improve the look and feel of your skin, and that play well with other products you might be using like make-up and cover-ups.
Our Recommendation
Don't waste your time with their Youth Code Generator. We thought it would be something that would help calculate what type of skin care regimen you should use, but instead it asked 10 inane questions and then made a monochrome mural out of our answers.
What do you think? Does Youth Code work or not?
[kkstarratings_custom_footer]