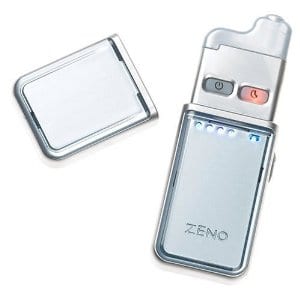 Zeno is a Space Age way of fighting acne, with no creams, lotions, or cleansers required. It was co-developed by NASA and has won a lot of awards so it has a lot of expectations put upon it. So is all the fuss worth it, and will it perform as expected once you get it home?
Overview
In the world of skin care, acne has its own sub-niche of users that are pretty desperate for a solution to their problem. Perhaps no other skin condition other than wrinkles and signs of aging gets more attention than zits. The reason is that their bright red nature draws the attention of anyone that looks your way, so there is a high sense of urgency to getting some resolution on the matter.
The Claim
They say that it has been proven by clinical trials, and that dermatologists have recommended Zeno to their patients. They also say it won the Allure award for Best of Beauty, and we checked into that and it holds up. As far as it being clinically proven, we did see that NASA admits to being involved with the development, so there's a higher likelihood that this did undergo some testing to see if it works. Doctors recommend all sorts of things, especially when they're given them free or they get a kickback from recommending it, so that's not exactly the biggest claim to make.
The Hype
Acne products always have a bit of hype, and here's why: Each of us has the vision of our skin in perfect, glowing condition, and that's the end result we're hoping for when we find a new way to keep our face clear. This is why many website feature before and after picture, showing those with really bad acne cases on the left, and then having their skin all cleared up on the right. But many have become desensitized to these types of pictures since they're so easily doctored with photo editing software.
The Cost
The original version of Zeno can be had for $125, and there's also a smaller version called the Hot Spot Pocket that can be found for around $40. That's quite a price discrepancy, especially since both models come with roughly the same claims. There is also an ongoing cost to using the device, because you'll need to buy replacement cartridges for it after they get used up.
The Commitment
The nice thing about this device is that you're treating your pimples one at a time as they occur, so you only use it when you need it, and you aren't required to keep up with any sort of daily maintenance. Most likely you already have your acne-fighting regimen in place with other cleansers and toners, and this would be used to battle the zits that make it through your defenses.
Evaluation
Even though there are a lot of Zeno users that are voicing their dissatisfaction with their experience, the more we went into the feedback the more it became clear that it was the price that was bothering them more than anything else. This is because there are just as many satisfied users saying that it works great for them, and these are likely the ones that didn't fret too much over the higher price tag.
Zeno also makes anti-aging products, so it seems that they're trying to capitalize on the two biggest skin care markets. "Zit zappers" are becoming more and more popular, and since this one is already popular in Europe it has somewhat of an edge over upstart companies that are just entering the market. But at the same time the negative feedback it's received makes potential customers take a breath before buying.
Final Zeno Review
Although the original Zeno unit gets totally mixed reviews, the smaller version seems to be met with more positive feedback. We're thinking that this must be due to a phenomenon known as cognitive dissonance. The original model came with a hefty price tag, so users unconsciously expected it to work miracles. The mini version came with a mini price so those that tried it didn't expect as much from it, and were happily surprised. As long as you keep your expectations reasonable, it shouldn't matter which one you go with.
Our Recommendation
When it comes to battling your zits, it's all about relentlessness. Your acne isn't going to take a break, so you need to keep at it until your body finds its equilibrium and the acne calms down. Some people outgrow their zits, while others still experience adult acne later in life. There isn't any way to know for sure how long it will stick around, so it's best to find out what your skin prefers, and then do your best to keep it happy and clear on a daily basis.
What do you think? Does Zeno work or not?