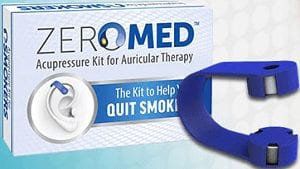 Okay, it is getting close to that time of year where a lot of people are thinking about New Year's resolutions and one of the most favorites is to stop smoking. So we thought that we might introduce you to ZeroMed to see if it might help.
Overview
ZeroMed is a change from all the other stop smoking devices that you may know about. Instead of it being something that you ingest or apply as a patch to your body it is a device that you clip to your ear. Technically this is known as auricular therapy.
The Claim
The company claims that their device is a form of acupressure that will help you to quit smoking without the normal cravings that come during the quitting process. They say that it eliminates the need for using quitting devices that contain nicotine or other harmful chemicals.
The Hype
For those that desperately want to quit smoking it really doesn't take a lot of hype to entice them into trying a new product. Most that have tried to quit and have failed have tried multiple different types of stop smoking aids. Most will continue to do so until they find the one that works. So with the marketing material being so strong for ZeroMed chances are most will want to try it.
The Cost
You can expect to pay $39.99 for ZeroMed plus $6.99 shipping and handling.
The Commitment
Probably the first thing you are thinking is who wants to walk around with a device attached to their ear for several days? That is not the way the way it works though. Apparently all you have to do is clip the device to your ear for 20 minutes and it will help to eliminate the craving for the cigarette. The promo material doesn't indicate how often you can do this but the promo video says follow the instruction in the kit.
Evaluation
The premise behind ZeroMed revolves around using acupuncture for helping to stop smoking. The difference here is that it is using acupressure which means there are no needles involved so there is no invasive action. Acupuncture has really become popular in western medicine, and acupressure is slowly following in its footsteps, however many say it is not nearly as effective. Many have found that acupuncture did help them quit smoking so for those that are not into liking needles they may try acupressure. The ZeroMed is a very new product so whether it is is going to work or not really remains to be seen until enough valid feedback can be gathered from it. What is interesting is that they only ask you to pay the postage first and if you are not happy with the product you can return it. However, if you are happy then you pay the full price for it after the fourteen days. So probably the most it will cost you to at least try this product is the $6.99 shipping plus the return post to send it back. Plus, you have to rely on the company that they are really going to cancel your order and not charge your credit card if you do return it.
Final ZeroMed Review
We're going to give the ZeroMed a Try/Buy Rating. There is just not enough supportive evidence to show that acupressure is a really significant resource for smoking cessation. Plus, there is not enough feedback on the ZeroMed to support its credibility.
Our Recommendation
There are several health warnings that come with ZeroMed that you need to be aware of before you order it which is outlined in the promo material so make sure you are well aware of these before you decide to use the product. We have looked at a few stop smoking products in the past with some getting more thumbs up than others. One that is herbal based and is getting some good results is Zero Nicotine.
What do you think? Does ZeroMed work or not?