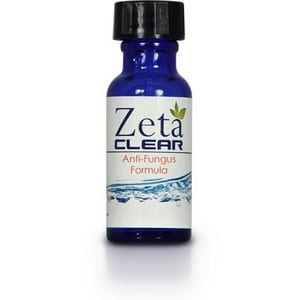 If you've got a fungus growing on your fingers or toes, you probably have considered getting ZetaClear to get rid of it. This is an all-natural formula that promises to turn your nail health around and get you back to having the healthy nails you remember. But how well does the really work?
Overview
Nail fungus can be really frustrating because it is so stubborn. You can try lots of different remedies on it, but it can prove to be resilient, and you might think that you'll have it for the rest of your life because it just seems like it isn't going anywhere.
The Claim
ZetaClear claims that you'll be proud to show off your feet again once you get rid of the yellow look of your toenails. They say that their two-step process works by being both topical and homeopathic. They also say that you can start seeing the benefits in only a few weeks. With many other products out there you can expect to wait months or more to see results, and when you stop taking the product your fungus might return with a vengeance. With this, you are supposedly getting the ingredients into your bloodstream so that you are creating a hostile environment for the fungus to grow.
They say that their topical treatment goes under the nail so that it is attacking the problem at the source. They claim it also works to smooth and soften the surrounding skin, improving the look and feel of your nails right away. They say that when you use the oral spray that comes with it you are infusing your body with the ingredients it needs to help get rid of the fungus more quickly, by being delivered though the bloodstream.
Fungus Among Us
This is a very common problem, so you shouldn't be embarrassed that you have it. It is not a sign of poor hygiene, or a nutritional deficiency, it's just something that happens. There are ways to help prevent it, and situations to avoid that would increase your likelihood of getting it, but seeking out treatment should not be something to be ashamed about.
The Cost
You can get one month of ZetaClear for $50, or three months for $100. Their most economical package, is $150 which gets you a six month supply. They say it works in just weeks, so the one month supply should be all you need. You might want to consider getting the larger supplies to have it around for maintenance.
The Commitment
They say that this goes on easily, you just paint it on with the included brush, and spray the oral spray into your mouth for Step Two. The two steps should be taken simultaneously, and work as a combination to provide quick results with the topical solution, and long-lasting results plus prevention by taking the oral supplement.
Evaluation
All of the ingredients in ZetaClear come from natural sources, which makes sense because fungus is also something that is natural. They say that this is a fungus killer, and with the line-up of ingredients they've put in it, you can see why. These are some of the most well-known remedies for fungus, and by putting them all into one product they are
Homeopathic Remedy
If you've never heard of homeopathy, it is a branch of alternative medicine that involves taking the extracts of plants and other natural ingredients, and diluting them many times over. The idea is that you treat like with like, so if you had a poison ivy reaction you would use poison ivy to treat it, with a tincture made from the same thing that is causing the problem. It's really a matter of whether you believe this type of treatment works.
Final ZetaClear Review
ZetaClear has been getting mixed to positive reviews, and we're giving it a Try rating. There probably won't ever come a day when there is an anti-fungal product that works for everyone every time. That's why there's a bit of trial and error when it comes to treating it, because some people will respond well to one treatment, but not another, and vice versa. What you're looking for here is signs that it works for the majority of people, and that's what we have here.
Our Recommendation
When it comes to nail fungus, you really don't have a lot of great options available to you. This has been shown to work in many cases, although of course there's no guarantee that it will work for you. But the chances are that you're fed up with your fungus enough to put a Ulysses S. Grant down on a possible fix. If it clears things up it's the best money you'll ever spend, and if it has no effect you're on to the next product.
What do you think? Does ZetaClear work or not?