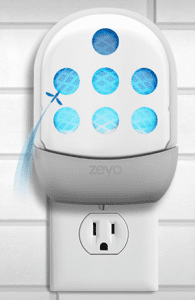 Flying insects can be a nuisance at any time of the year but spring and summer seems to bring them out in droves. Thats fine if they stay in their own territory but more often than not they like to take up residence in the home and office. A solution for getting rid of them may be the Zevo Fly Insect Trap.
Overview
The Zevo Fly Insect Trap is a small device that works with a UV light to attract and destroy common type bugs.
The Claim
The claims being made for the Zevo Fly Insect Trap is that it attracts bugs from the air and does not use any harsh chemicals for attracting or destroying unwanted insects.
The Hype
The hype around the Zevo Fly Insect Trap is its ease of use and design. It is not huge and cumbersome making it ideal to be used in any setting.
The Cost
The cost for the Zevo Fly Insect Trap is $16.99 which includes free rush shipping. This includes the model two flying insect trap and two trap cartridges. Another option is the Zevo Trap 3 Pack Bundle for $48.99 which includes 3 model 2 flying insect traps and 6 trap cartridges.
The Commitment
The commitment for the Zevo Fly Insect Trap is that first, it has to be placed where it is most needed. Then the second commitment is replacing the cartridge when needed.
Evaluation
There really isn't much to installing the Zevo Fly Insect Trap. It simply gets plugged into an available wall socket. Then it goes about its job of attracting flying insects. It will function in this way up to forty-five days. After which the cartridge needs to be removed, discarded and replaced with a fresh cartridge. This unit has been put through some university lab testing for its efficiency.
One of the important benefits about the Zevo Fly Insect Trap is that it does not rely on any harsh chemicals nor does it emit any type of odor. It is reported that this unit works well in all areas of the home. Most will find it to be most useful in the kitchen or the bedroom where flying insects can be particularly annoying. The Zevo Fly Insect Trap is for indoor use. One word of caution is not to use the Zevo Fly Insect Trap near a chameleon as they are highly sensitive to UV light and it could cause them harm.
Final Zevo Fly Insect Trap Review
We are going to give the Zevo Fly Insect Trap a thumbs up. It is unsanitary to have flies roaming about in the house and it can be a hassle trying to get rid of them. The Zevo Fly Insect Trap can do this job with no hassles. The only drawback is having to buy extra cartridges but if the unit works as well as its reported to do then it will be worth the extra effort.
Our Recommendation
If ants is the problem you are dealing with then check out Terro Liquid Ant Bait.
What do you think? Does Zevo Fly Insect Trap work or not?