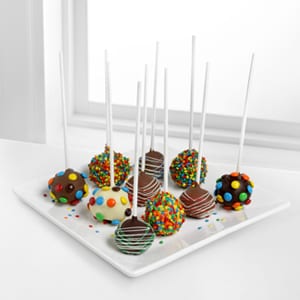 You might have seen cake pops in a bakery and wondered if there's a cake pops maker that can produce the same or similar results. These are fun new dessert that's popped up in recent years, and people really love eating them, as well as designing them.
There are a lot of reasons for their success. First, they take a well-known and well-loved item like cake, and make it small, bite sized, and uniquely decorated. That's just a proven winner. So how can you make these for you, your family, coworkers and friends from the comfort of home?
Choosing the Right Cake Pops Maker
Of course you want a unit that can produce the same quality as you'd get from a bakery, and you also want consistent results in case you ever want to use it for an important event. You're also looking for one that is easy to use, and that can produce them more quickly than using the oven. The final consideration is the price, but most of what's out there is at just about the same price point, which means you can focus on the other factors almost exclusively.
Cake Pops Maker Review Recaps
There are a few major players in the cake pop game, and we've taken a look at what they have to offer, their pros and cons, and what sort of results you can expect. We looked for things like ease of use, speed, and consistency of the end product. We're also keeping an eye out for any new contenders that enter the game and will add them here after they get a full review.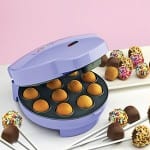 Babycakes Cake Pop Maker Recap
The Babycakes cake pop maker is pretty special in that it can make perfect batches of cake pops without the need to heat up the oven. It's all a self-contained unit that makes things pretty quick and easy. You just need to add your batter of choice and before you know it it's time to decorate.
The other great things about this machine is the community of support that's behind it. You can go to the Babycakes website and find other users that are sharing their recipes and posting pictures of their creations. It's pretty cool!
See our full review of Babycakes Cake Pop Maker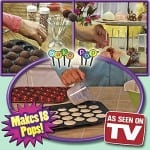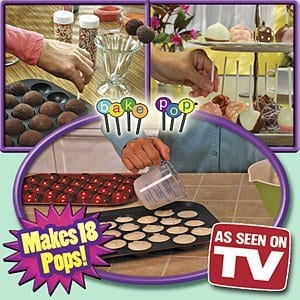 Bake Pops Recap
Bake Pops come with the baking pan, as well as the sticks that you'll need to attach to them. It's got a top and a bottom to it so that it forms perfect little balls, just like you'd expect from a cake pop maker.
It's pretty good and delivers consistent results. Some times the edges run over, but they're really easy to peel off to get the perfect look. The one drawback is that it uses your oven, so in the summer months it can heat up the kitchen, but other than that we were pretty pleased with our at home test.
See our full review of Bake Pops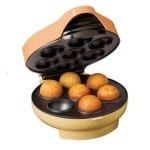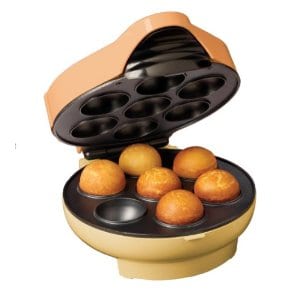 Nostalgia Electrics Cake Pop Maker Recap
This makes fewer cake pops at once, but they are larger than your ordinary size, so it seems to split the difference. This is one unit that doesn't make you use your oven, so that can be nice, and it can make them much quicker than waiting for your oven to preheat.
Aside from the larger size and smaller quantity output, this gets decent reviews and is worth a try if you haven't been able to find a method that suits you yet. It can also make donut holes, which would be a healthier alternative to donuts because these are baked and not fried.
See our full review of Nostalgia Electrics Cake Pop Maker

What's Not to Love?
Cake pops have become pretty popular, and it's not hard to see why. Anything bite sized is usually a hit, that's why you have so many things like Kit Kat bites, and so many bite sized candies. When you add cake into the equation, you are getting an American staple that's almost as solid as pie. Cakes are synonymous with special occasions like birthdays, weddings, and anniversaries. When you put them into pop form you are basically bundling up that magic and making it even more special by decorating each individual piece.
It's also a much easier canvas to work with, because of it's round nature you have 360 degrees to use your imagination with. It's circular nature also makes it great to use as a head, so you can turn cake pops into anyone you want. You could make Santa cake pops for Christmas, or leprechaun cake pops for St. Patty's Day. They just lend themselves so well to many different design ideas, it's no wonder that they're popular for their taste, as well as with the creative types out there.
Comparable Quality
With some of the above cake pop makers, you can definitely get the sort of cake pops they're selling for a premium at your local bake shop or at Starbucks. Once you've got the actual pop made, now comes the fun part: the decorating. This is where you can involve your kids in the process and they can design their own pop before they eat it. Or you can make a batch for them to bring in for their classmates at school. Or you can serve them up when you host a party, or bring them to the next party you attend.
In all of our testing and reviewing we didn't find a cake pops maker that made bad cake pops, so they're all doing a good job at getting you the end results, it's just a matter of preference whether you want to bake them the old fashioned way, or use sort of a George Foreman grill method whereby you're cooking them from the top and the bottom at the same time, in a device that generates its own heat and has non-stick coating all over.
Best Cake Pop Recipes
There are so many different cake pop recipes that it's hard narrowing it down to just a few. Some of the more elaborate designs can be pretty amazing looking, almost to the point that you don't want to eat them. The cake pop provides such a perfect piece of "clay" that you can literally sculpt to get them to become anything you want. As far as the taste goes, it almost gets lost in all of the focus on the design.
Our favorite recipes are the ones that combine taste as well as looks so that you get the overall sensory experience. That means that you'll want to use edible ingredients. One of the more clever recipes we've seen involves making Rudolph cake pops for Christmas, in which they used pretzels for the antlers, and red jellybeans for the nose. Half the fun is eating it because it's all edible, a la Charlie and the Chocolate Factory.
When you're crafting your own cake pop recipe, keep that in mind and let your brain come up with things that can be used as accessories to the cake pop. This lets you expand the possibilities past the batter and the frosting which can keep you somewhat limited. Anything edible is fair game really, but think about all of the bite sized snacks out there, and don't be afraid to combine salty with sweet, they make a pretty good combination, and more and more candy bars are incorporating a salty and sweet mix.
Best Cake Pop Flavors
The best flavors for cake pops will of course be what you like most. You can't go wrong with the basics that are time tested, like chocolate, vanilla, and strawberry. But people have also found success using brownie batter and making brownie flavored cake pops. You can basically peruse the cake batter aisle at your local supermarket and see what catches your eye. Most cake batters translate nicely to cake pops. You can even use ones that are infused with little bits of goodies, like chocolate chips or candy pieces.
Best Cake Pop Maker
We're going with Babycakes as the top cake pop maker out there. Based on the reviews, and the rather extensive community of cake pop enthusiasts all sharing their recipes and pictures of successful cake pops, this is the one we'd go with. And it's not just cake pops that they're going after, they basically want to be the company you think about when you think about making desserts at home. They have machines that can make your own dessert waffles, as well as mini donuts, and more.
Of course you want to go with a cake pops maker that is really non-stick, because if any part of the pop sticks to the pan, you can pretty much be assured that that particular pop will be ruined. You have to have the perfect circle in order to pull off the design and aesthetic of a pop so the non-stick attribute is crucial. The makers that we've seen all get high praise for being non-stick, just be sure to follow the directions on whether or not you need to season the pan or the machine before the first use.
Best Cake Pops Book
Bakerella has put out a book that has tons of different cake pop design ideas that will get your creative juices flowing, and will no doubt result in better looking and better tasting cake pops. Sometimes you need some inspiration, and this should give it to you. They are pretty clever with the different ideas they've come up with, and they've got different sections for certain holidays and events so you can add some novelty to all sorts of important days throughout the year.
Are You Destined to Be a Cake Pops Maker?
Many people have stumbled onto cake pops as a hobby, since you can make so many different designs, and since half the fun is eating them afterward. If you've never baked things before, or had the urge to decorate a cake, you might be surprised to learn that you really like decorating cake pops, and if you're brave enough to post your results online, you might get hooked when people start complimenting your work.
We're all looking for ways to showcase our creativity, and this is one thing that has a lot of reward to it when you see people's faces light up at something you made. Then when they give the "yum" of approval you get that second dose of fulfillment. You'll likely end up the most popular mom on the block, or the most popular person in the office when people figure out you have this ability up your sleeve.
While it's not really something that you can add to your resume, it's something that is a lot of fun to do, and in the world of hobbies, being a cake pops maker has its just desserts.