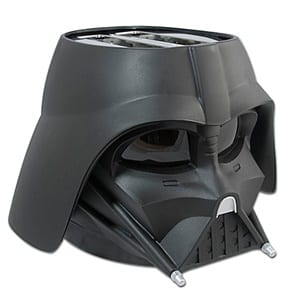 Making food fun through its presentation is something that many food preparers enjoy doing. Sometimes it can be done with their own creativity, while for others they like to rely on resources and a great one for this is the Darth Vader Mask Toaster.
Overview
With Christmas right around the corner we wanted to showcase some fun AND useful items that would double as really exciting and intriguing Christmas presents as well and we have found one in the Darth Vader Mask Toaster. Yes, you read correctly, toaster! This toaster is not functional but exceptionally fun as well.
The Claim
The claim is that this fully functioning Darth Vader Mask Toaster not only looks really, really, good on the counter but also produces a really interesting piece of toast or waffle as well!
The Hype
The hype is created by the awesome imprint that the Darth Vader Mask Toasterimparts on all your toast and waffles. While cooking your bread or waffles the Darth Vader Mask toaster will imprint the Star Wars logo onto the side of the bread or waffle
The Cost
The cost of this very cool yet fully functioning Darth Vader Mask Toaster is only $49.99 at Bed, Bath and Beyond. Very reasonable price point for a toaster of this quality regardless of the novelty associated with it.
The Commitment
No more commitment required for the Darth Vader Mask toaster as there would be for any other toaster and it will look way cooler on the counter than a regular old plain toaster as well!
Evaluation
The Darth Vader Mask toaster is not just a novelty item. It is actually a very well made toaster underneath the Dart Vader mask image. It does everything you would expect from a good toaster. It has the ability to toast bread of course, but also English muffins and waffles as well and the cool part is that it imprints the Star Wars logo on everything it toasts so if you have kids or even a family member who is a star Wars buff then you get to indulge their inner Star Wars geek while giving them the foods they love. The toaster has an adjustable thermostat and the requisite reheat and defrost and even Quick Stop settings as well. It has an automatic as well as manual shut off for safety and a good sized crumb tray for cleaning. The only down side is that it only comes in 2 slice models. Maybe a 4 slice Tie Fighter model will come out soon, who knows?
Final Darth Vader Mask Toaster Review
For any fan of the Star Wars saga, the Darth Vader Mask toaster is the unit for your X-Mas list this year. Works as well as other toaster and has the cool factor that the others certainly lack! A great product for any Star Wars lover!
Our Recommendation
As we have mentioned above, this unit is great for any Star Wars lover who wants a very cool yet functional conversation starter in the kitchen. Well priced and well- made and very, very cool indeed!
What do you think? Does the Darth Vader Mask Toaster work or not?