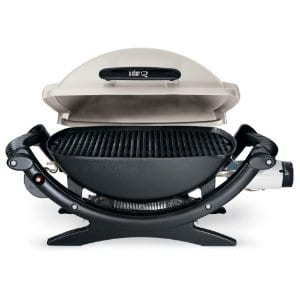 When looking for an electric grill, you're spoiled for choice. Ever since the success of the George Foreman grill there has been a new arrival every few months saying "me too". But how can you know which ones will produce good results, and which ones are best left alone?
Above everything else, the food has to taste great. Next, how easy it is to clean makes a big difference. If you get those two things right, you're on you're way to a winning grill. Lately companies have been trying to bring more to each grill, endowing them with lots of extra features in an attempt to earn your purchase. Some of these additions can be good, but sometimes they can go too far.
Electric Grill Review Recaps
We evaluated some of the biggest sellers in the electric grill market, and uncovered some heroes as well as some flops. Here is a rundown of what's out there. As we discover more noteworthy appliances we'll be adding them to this page so you'll always be up to speed on your indoor grilling needs.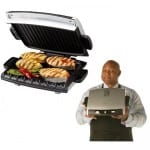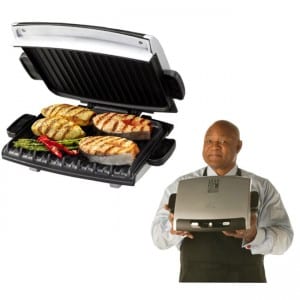 George Foreman Grill Recap+
This is the grill responsible for the electric grill craze that went on years back, and is still effecting things today. Even without the celebrity endorsement, this grill came out with a basic premise. If you cook foods from both sides you'll get results twice as fast. The idea took, and before you knew it you were in the minority if you didn't have one.
So how well did it live up to its claims? Pretty darn good, and that is why it went from trend to ultra trend, because people bought it and liked it and didn't hesitate telling their friends about it. Now there's a wide assortment of grills to choose from, so pick which one sounds best and go for it.
See our full review of George Foreman Grill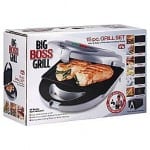 Big Boss Grill Recap
The Big Boss Grill resembles the original George Foreman, and basically works the same way as well. The big draw to it is that it has many interchangeable grill plates, so you can switch from burgers and chicken breasts, to donuts and waffles, all with the same device, and all with nonstick plates that are easy to clean.
It gets mixed reviews, but what can you expect from device that makes so many different foods, it's bound to get something wrong. It seems like the waffle attachment could use some work, as this was the lowest rated food item it makes.
See our full review of Big Boss Grill


Coleman Roadtrip Grill LXE Recap +
This is a gas grill that gets honorable mention here just because it's so cool. It is designed to bring you the same taste of foods that you like to cook at home, anywhere you go. It cooks with propane, but packs up nice and easy so you can take it to tailgate parties, camping trips, and beach outings.
You won't believe the taste of the foods you grill on this, you'd think you were standing on your back porch on a summer's day, but instead you could be freezing your butt off at a late November football game.
See our full review of Coleman Roadtrip Grill LXE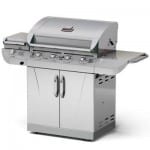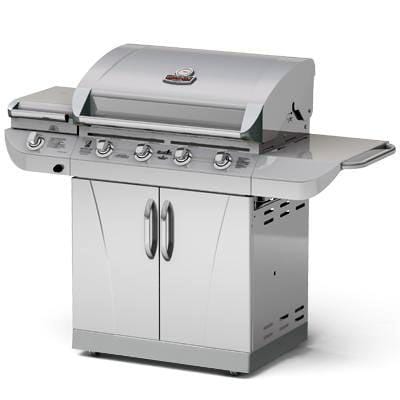 Char-Broil Infrared Grill Recap
The Char-Broi infrared grill line says that the infrared makes it better. Because of the penetrating nature of infrared heat, they say food cooks more thoroughly and in less time than conventional cooking. Meat falls right off the bone because it's been cooked throughout, but still retains all of its juices.
Shoppers are a little less impressed with the performance though, and this is one lineup of grills that merits further research before a purchase.
See our full review of Char-Broil Infrared Grill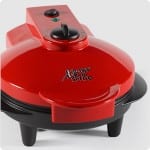 Xpress Ready Set Go Recap
This Xpress unit follows in the footsteps of the George Foreman and the Big Boss Grill, but being able to make your own personal mini pizza in 7 minutes is too big of a draw to ignore. If you compare this to cooking things in your oven, the difference is clear, and there's no reason to heat up the oven when this can make delicious hot meals in less time and with less energy wasted.
Definitely look at this one more closely, and compare it to your other options before making a final decision.
See our full review of Xpress Ready Set Go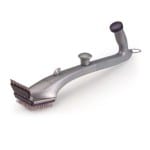 Grill Daddy Pro Recap
The Grill Daddy Pro is a handy cleaning device for your different grills. It works best on charred on leftover gunk that accumulates on standard grills. It sprays water onto the hot grill to form steam that works to break up the caked on mess, and the way it's designed gives you leverage to scrape it all clean in no time.
When you consider that you would need to use a lot of elbow grease and harmful chemicals to clean your grill in other ways, this is a winner and an improvement on the basic model.
See our full review of Grill Daddy Pro

How to Use an Electric Grill
It's pretty easy to use an electric grill, and the owner's manual will be your best guide for your individual model. You plug them in and allow them to preheat, this typically only take a minute or two. Some claim that you don't need to flip the food since they cook on both sides, but in our experience it's always best to flip the food at the midpoint. This gives you an idea of whether it's on track to be done in the specified time, and if there are any parts that are cooking more quickly than others this will help balance the equation.
Some models will turn off after a designated amount of time, allowing you to set and forget foods and not have to worry about them burning or getting overcooked. This is a nice feature most times, but it can sometimes turn off before you wanted it too, or before the food is fully cooked. You'll have to test it out a few times to see how to get the best results for your specific model.
This is one appliance where it really does pay to read the owner's manual, especially if you go with one that has several different functions. Sometimes there are helpful features that you might not be aware of without reading about them. It can really help you get a better experience with your grill, either by saving you more time or by helping your food taste better.
Why We Love Electric Grills
Ovens are pretty much just for baking, and stove tops leave so much to be desired. First, they waste a lot of energy due to the heat transfer process. Next, they don't really make foods taste great, which is why people prefer a grilled burger over a pan fried one. And finally, they don't do anything to help the fat drip away the way many electric grills do. Plus, you can make some of the most popular foods in them, like hamburgers and hot dogs, as well as chicken breast. These are all foods that are a real problem cooking in conventional ovens or on the stove top.
Are They Really Energy Friendly?
The grills heat up their nonstick plates using the heating element underneath. It's all self-contained, and not a lot of heat is lost the way a burner on the stove simply emits heat without a strong focus. And since many of the grills cook food in less time, you are saving even more energy by not using it longer than you need to. Of course they use electricity, the same way your electric stove does, but typically they use less of it in a head to head comparison.
Electric Grill or Griddle?
A lot of people debate whether they should get an electric grill or an electric griddle. It's really not an apples to apples comparison, because a griddle will be able to make things like pancakes and french toast, and does a better job of making large amounts of bacon or fried eggs. But an electric grill excels at cooking things quickly that usually take a long time, like burgers and chicken breast, because of cooking both sides at once. You really need both in your kitchen, adjusting your tool of choice with each meal.
Electric Grill Cleaning
There are some grills that are easier to clean than others. Almost all of the grills you'll find these days feature nonstick coating, but nonstick is not created equally, and you'll find some that nothing sticks to, and others that everything sticks to. How easy it is to clean is usually a byproduct of how much things stick to the plates. You also have to consider how many grooves and ridges the grill has, because these provide places for grease and char to accumulate and can make clean up harder than it has to be. Be sure to check the owner's manual to see which parts of your grill are dishwasher safe.
Where to Buy an Electric Grill
You can find electric grills at most major department stores like Target, Wal-Mart, Kohl's, Home Depot and Lowes carry the bigger sizes that are made for outdoor/indoor use, and even ones that are meant to replace your current stove top completely. You can find pretty good deals on TV by watching QVC or HSN. For price and selection Amazon is always a good bet, and will usually include free super saver shipping because most grills you find will be over $25.
Electric Grill Prices
The prices you'll find on many of the most popular electric grills are pretty reasonable. They have to compete with one another so you'll notice that they're all right around the same price when they are a similar size and have similar features. In most instances they are something that is pretty affordable, considering that you are adding an additional cooking method to your kitchen. This can come in handy when all your burners are taken up on your stove, or when you just want to make a quick small meal and can bypass the stove and oven altogether.
Our Electric Grill Recommendation
The George Foreman grill has stood the test of time, and even with the recent upgrades it is essentially the same grill. It provides the performance you want at a price that is reasonable. You can be sure that you are getting something that has been used in millions of homes and that can provide reliable results. But there's nothing saying that you can't have more than one. If you find one that has a unique attachment that you can't live without, and that the Foreman doesn't offer, these electric grill units are small enough so you can store and use both easily.