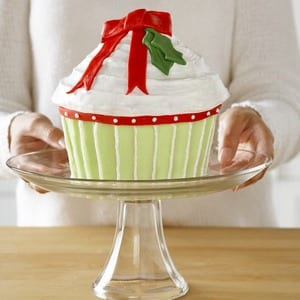 If you think regular sized cupcakes are yummy, then you should get a giant cupcake pan and see the sort of monsters you can make. These are basically cake-sized cupcakes that promise to be able to add more fun than an ordinary cake, and give you tons more design ideas and options.
But which pans actually make the perfectly textured baked goods that you're going for? We sized them up and are here with a few that caught our eye. Of course, the final choice will always be yours.
Choosing the Best Giant Cupcake Pan
Of course when one pan comes out, others do as well. You can't have Coke without Pepsi or McDonalds without Burger King. In this case there are a few different cake pans that merit your attention. In order to choose the right one you simply need to size up the feedback they're getting and see if there are any extra features that sets one apart from another. Of course the end goal is the same, a giant cupcake that looks and tastes good. So you want the system that provides the least hassle in achieving this goal.
Giant Cupcake Pan Review Recaps
We've checked out a few of the pans that are making the biggest waves in the industry and compared them to each other. What we looked for was consistent results, because we know how frustrating it is to go through the batter making and baking process only to have spotty results and have to start all over again. Next we looked at how easy it is to get the cake out of the pan, because if you have to struggle with it, or if it breaks apart, this can be an emotional time.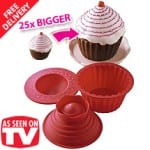 Big Top Cupcake Recap
Usually when you think pan you think metal, but the Big Top system doesn't use metal, it uses a floppy vinyl mold that promises to be non-stick and to bake your cupcake evenly every time. At first we were a little skeptical, thinking that it would be hard to use something like this for baking.
But upon closer inspection this performs remarkably well, and you'll wonder how they ever thought to ditch the idea of a metal pan in favor of something like this. The results speak for themselves and the positive feedback is in line with our review.
See our full review of Big Top Cupcake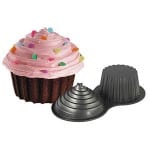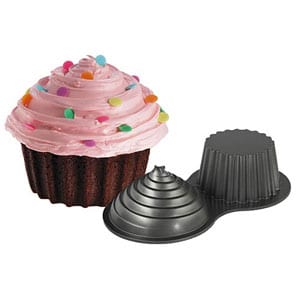 Wilton Giant Cupcake Pan Recap
The Wilton giant cupcake pan is everything you'd come to expect, creating both the top and the bottom of your giant cupcake at the same time. All that's left when they're done baking is to put the top on the bottom and start the decorating process.
One drawback to it is that it tends to cook one side faster than the other, which could produce less than perfect results. With a little trial and error and adjustments made this can be overcome, but it puts some bakers off on the idea. It's up to you on whether you want to give it a try.
See our full review of Wilton Giant Cupcake Pan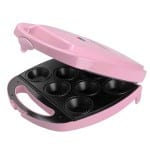 Babycakes Cupcake Maker Recap
This doesn't make giant cupcakes, but it is pretty remarkable at how fast it can make ordinary cupcakes. By the time you have your oven preheated to make cupcakes the old fashioned way, you could be putting the frosting on the ones popped out by your Babycakes machine.
It's great because you don't have to heat up the whole kitchen just to make a batch of cupcakes. It makes them so fast that you can even feed a group of hungry kids just by making batch after batch. We gave this our thumbs up, mostly for the novelty of making cupcakes quick and easy.
See our full review of Babycakes Cupcake Maker

Best Giant Cupcake Recipes
Now that you've got the actual making of the cupcake done, you can get on to the more delicate matter of making it look and taste good. There are a ton of recipes available to make your own giant cupcakes, and there are basically two ways you can focus on: The Look and The Taste. You can also outdo yourself and go for both at the same time.
We recommend experimenting with the taste first, getting that down to a science, and then shifting your focus to the design aspect. It's no fun biting into a great looking cupcake only to find the taste lacking. On the contrary it's a pleasant surprise to bite into a dull looking cupcake and find an amazing taste.
The Look
You are basically only limited by your imagination as far as the look goes. You can make your giant cupcake look any way you want it to. Some people go for the cupcake look, making it appear to be a large sized version of an ordinary cupcake. Others have added some creativity and made it look like a house. Still others have used it as the top tier of a three tiered cake.
What makes these fun to decorate is that you have more surface area for your canvas. With an ordinary cake you just have the top to work with, but with a giant cupcake the side is tall enough to add your own ideas to it. You can use two different colors of frosting, one of the top, and one for the bottom so that you provide contrast between the top and the bottom.
One interesting look is to bake a batch of regular sized cupcakes and then one giant one and decorate them all the same. This makes it look really cool, like you pulled it out of a children's storybook, or that something went terribly wrong at the lab and one of the cupcakes got hit with an expando-beam. The important thing to remember when going for style points is not to do too much, or not enough. There comes a point when your giant cupcake looks "just right" and that's when you have to have the sense to stop.
The Taste
As far as getting the best taste, this is where your expertise in baked goods can come in, or you can simply follow a recipe for a cake or cupcakes that you know taste great. It's basically the same platform, and should cook up the same. Others have substituted brownie batter and made a large brownie cupcake. Most any recipe that tastes good in cake or cupcake form will taste good in giant cupcake form.
One giant cupcake pan out there, the Big Top, lets you put a special insert that makes an indent in the center of your cupcake. This opens up a whole new world of possibilities as you can add whatever sort of filling you want to the center, and people will be surprised that it's not just a cupcake through and through. You can make an Oreo style cupcake, but using a chocolate batter and filling it with white cream on the inside. For this one you could decorate it with real Oreos on the outside so your guests will know what to expect on the inside.
You could also use two different batters for the top and the bottom, which would give you a different taste sensation, and allow you to make double concoctions. Think Chocolate Strawberry, or Chocolate Covered Cherry, or Lemon Creme. There are so many different combinations that are possible, that you just can't pull of with a cake unless you go two tier.
Best Way to Decorate a Giant Cupcake
Think novelty. That's really what you're going for here. Bring in the help of some of people's favorite candies. You can make an M&M cupcake and sprinkle mini M&Ms all over the top of it. That will make the cupcake appear even bigger as people imagine that the minis are actual sized M&Ms. You could make a caramel flavored cupcake and stick some Twix on the top of it. Or use a recipe for a Snickers cake and put Snickers minis on the top of it.
Basically anything that brings a theme together for your cupcake works well. If you have a strawberry flavored cake, you would want to put some fresh strawberries on top, or even a chocolate covered strawberry. This same theory works for any sort of fruit flavor you're working with. Those that eat your cupcake will appreciate your attention to detail, and your clever ability to connect the outside of your cupcake with your inside. Don't forget that the frosting you use also plays a major role, both on the taste buds as well as with aesthetics.
Involving the Family
Another aspect of a giant cupcake pan is that it opens the door for lots of fun family interaction. Of course you can always get your kids involved with the batter making part of a cake, but the decorating is usually not as fun. Since a giant cupcake can be worked on in a 360 degree fashion you can have multiple people all helping to make it look great. By rotating the cupcake you can all over different things that you're doing, and make it sort of an assembly line of decoration. This can be a really special time, and if you take pictures of your creations it can be good filler for a scrapbook. The best part is you all get to share in the eating of your creation, which is the cherry on top!
A Focus on Desserts
Many people consider dessert a special thing and don't have it too often. Either because they think it's a bit much to eat a full meal and then eat dessert after, or they think it's an added expense that they can't justify on a regular basis. But with something like a giant cupcake pan, you don't have to spend a ton in order to have a delicious dessert, and it's not that giant where you have a ton of cake to try and eat. It makes a nice treat and many people find that they use there's on a weekly basis, and of course for a special occasion. It can be nice though, to make an ordinary day a special time, and just come up with a semi-valid reason to add some sweet to the day.
Our Giant Cupcake Pan Recommendation
We'd have to go with the Big Top giant cupcake pan because of the special insert it has. This allows you to fill your cupcake with surprises inside that will wow those that try it, and that works at increasing the taste sensation. The other pans also have received decent feedback, so it's just the little things you have to base your decision on. In the end you'll probably have no trouble making the sort of cupcake you would expect from a giant cupcake pan.