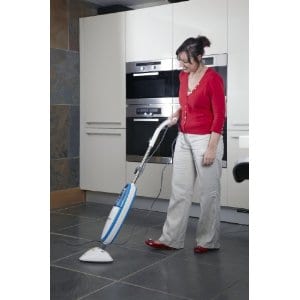 If you don't already have a quality steam mop in your life, you definitely need one. They are one of the latest product types to come out and combine the handiness of a mop with the awesome power of steam. At least that's what they are supposed to do. Like with any product, some companies do it better than others, so we've rolled up our sleeves and looked at what's out there in order to bring you our line-up of what works – and what doesn't.
Choosing the Right Steam Mop
The biggest factor with any steam mop is the steam. It's really easy to get the mop part right, but if you mess up the steaming action it's going to be a flop and a disappointment. So the number one thing you want to look for is any complaints about a steam mop leaking, not producing enough steam, not mopping things up enough and leaving water everywhere, and breaking down after just a few uses. These are all signs of a poor quality mop, and you should go on to the next one if you spot this sort of feedback.
Steam Mop Review Recaps
After checking out the different offerings from various companies, some upstarts and other well-known brands, we've come up with our list of the winners and losers of the steam mop market. Of course, you should just use this as a starting point for your own due diligence, but we've hopefully been able to reduce the time it takes you to get all of your options down to a short list.

Shark Steam Pocket Mop
If you're not familiar with Shark, that's OK. They're a relatively new brand compared to other companies in the cleaning industry. But they are quickly building a name for themselves for producing high quality cleaning products at a moderate cost. The Steam Pocket Mop is no exception.
It's packed with so many features you'd think that it would cost twice as much. It basically blows away other steam mops in its price class, and the reviews are highly favorable. Chances are you'll like it, and it earned our Thumbs Up.
See our full review of the Shark Steam Pocket Mop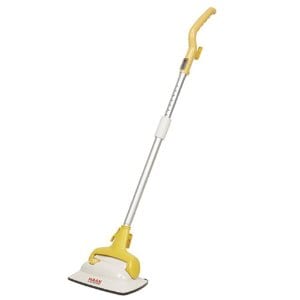 Haan Steam Mop
The Haan Steam Mop family is a series of steam mops, each with their own unique function set. This lets you drill down and choose a mop that has the features you want, and none of the ones you don't want. It is an interesting concept, and one that we ended up getting on board with.
The reason is that they take one mop and instead of trying to get it all right, they focus on just a few features and make sure that those few features actually work. The reviews for these mops back up the concept, and people seem genuinely pleased with them.
See our full review of the Haan Steam Mop


Bissell Steam Mop
The Bissell Steam Mop has a strong brand name behind it, which means it also has a lot of expectations to live up to. Bissell has been making cleaning products for decades, and has a lot of experience with steam cleaning. That's why we were excited to size this up and see how it works.
The overwhelming majority of people say that this is a quality steam mop, and gets the job done as expected. It's another success for Bissell and merits your further consideration.
See our full review of the Bissell Steam Mop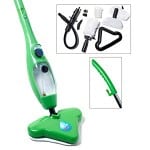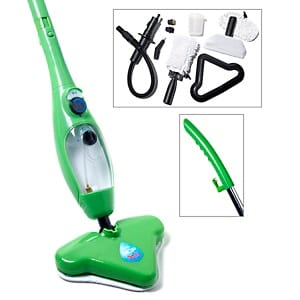 H20 X5 Steam Mop
The X5 gets its name for the 5 different tools it's supposed to be. Now before you go and get overwhelmed, you only have to use them one at a time, and only if you want to. It's a little like being Inspector Gadget, where you can transform this into what you need, but hopefully without the hilarious mishaps.
It actually does get pretty good reviews, and the chances are that you wont' actually use all 5 tools, but it's nice to know they're there. Most people will primarily use it as a steam mop, at which it excels.
See our full review of the H20 X5 Steam Mop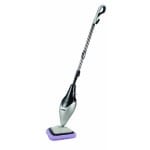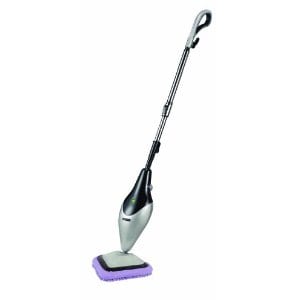 Bionaire Steam Mop
Bionaire is a company that makes mostly air cleaners and humidifiers. One morning an executive had the idea that they should expand into steam mops, and so they decided to venture out into a new territory. As is often the case with companies that try their hand at a steam-based product, it's a bumpy road.
According to most reports, this one is a flop, and should be avoided. Steam products are not something that you can just start making unless you have a strong track record, or are going to focus just on that sort of product.
See our full review of the Bionaire Steam Mop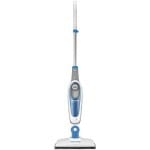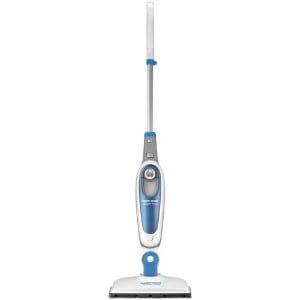 Smart Living Steam Mop
The folks at Smart Living are really stressing the point of being a "green" cleaning solution because it doesn't use any cleaning chemicals, just plain water. But this is true of most steam mops, so we couldn't figure out why they're using that as their major marketing feature.
The mop itself is nothing to write home about. It's got basic functions and design, and moderate reviews. It's not the kind of product that makes you run out and buy it, and there are better mops available at the same price point.
See our full review of the Smart Living Steam Mop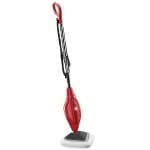 Dirt Devil Steam Mop
You're probably familiar with the Dirt Devil name and trademarked red color, so you might be thinking that they could make a seamless entry into the steam mop market. It's only natural for a vacuum cleaner company to expand their line, but they have to be careful not to spread themselves too thin.
Reviews for this steam mop are mixed, and it's to be expected because they are not really known for their steam cleaning, it's just something they are dipping their toes into. Go with Dirt Devil for sweeper vacs or upright vacuums, but pass on this steam-based offering.
See our full review of the Dirt Devil Steam Mop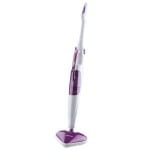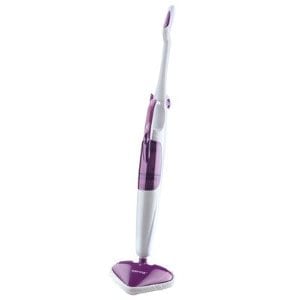 Sienna Aqua Laser Steam Mop
The word "laser" has more buzz surrounding it than perhaps any other marketing term. They seem to be trying to say that this steam mop will give you the precision you need. But is this the kind of mop that is only suited for Dr. Evil from Austin Powers, or does it actually do the job?
Sienna is not a steam producing company, and spends most of their time in outdoor lighting. Their steam mop gets mediocre reviews, and for the price tag you can get something better, so we recommend against getting this one.
See our full review of the Sienna Aqua Laser Steam Mop

How to Use a Steam Mop
A lot of steam mops get a negative review due to user error. There's a right way and a wrong way to use a steam mop, and if you don't follow the directions you'll end up with lousy results and think it is the machine's fault. The first thing you need to do is check to see if your floor type is supported. Most manufacturers will include a list of passable flooring in the instruction manual. Next, full debrief yourself on all of the functions. You want to err on the side of not enough steam rather than too much. If you get an area too wet, and the mop gets saturated, you'll find it hard to clean up the excess water. This is the number one complaint for all steam mops, and is easily avoided by being less aggressive with the steam output. More steam does not always equal more clean, and a little can go a long way, because the mop part is doing most of the cleaning, the steam is just loosening it up.
Best Steam Mops for Wood Floors
You'll want to check if wood floors have been given the green light by your steam mop, because some of them can't be used on these and you'll end up doing more harm than good. It's best to put your mop on the lowest steam setting possible, as you won't need a lot of moisture on wood floors, just enough to loosen up dried on spills and stains. You'll want to go with a mop that has a microfiber cloth, as this will be soft on your floors, and absorbent so it soaks up the excess moisture, but also tough enough so that it can get caked on stains.
Best Steam Mops for Tile and Grout
Tile and grout are tough to clean, because the grout gets so dirty. The tile usually ends up being pretty resilient, but those grout lines can make you crazy. Steam mops really aren't designed to clean grout lines, because they don't have anything that can get in those crevices, and often they do not shoot the steam with enough pressure to force the dirt out of the grout. In order to get that sort of job done you'll want to go with a dedicated steam cleaner that has strong pressure and a special brush that works to get the grout lines clean.
Using Vinegar in a Steam Mop
By adding vinegar to the water that you put in your steam mop you will be enhancing the cleaning effect, and getting a better clean with the same effort on your part. Just be sure that you do not add things like soap or other chemical agents unless the directions for your specific mop tell you that it's OK. Vinegar is almost always alright, because it is all-natural and it doesn't suds up like a detergent will.
Using a Steam Mop on Carpet – Good Idea?
Some people wonder if they can use their steam mop on carpeted areas, and that depends entirely on the mop. You don't want to get your carpets too wet, and some steam mops feature an adjustable steam level, while other do not. When switching to carpets you'd want to take the steam down a notch so that you can get them clean without saturating them. That way you can take off surface stains and messes without causing bigger problems like moldy, stinky carpeting and padding.
Our Steam Mop Recommendation
If you make the right steam mop purchase, you'll have a few years of hassle free use, and a cleaner home. If you make the wrong choice then you have a few months of lousy experiences before it either breaks down or you feel like breaking it. We recommend going with a mop that has excellent reviews, real world tests, and a history of making quality steam products. There are a few of them out there that clock in at the right price, have all of the right features, and will give you the high quality clean you want from a steam mop.