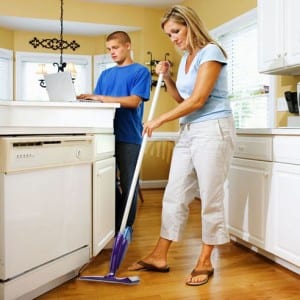 Once you find your favorite sweeper, you'll wonder how you ever got on without it. Or maybe you're replacing a sweeper, and you already know how great they work and are looking for something even better than the last one you had. Filling the gap between a broom and a vacuum, sweepers definitely have a solid place in the home. But choosing one can be tricky because they each boast their own set of features, and have varying degrees of positive feedback.
When Swiffer introduced the Swiffer Sweeper it sent the sweeper industry into a flurry of activity and now you have plenty of companies all trying to get you to buy their sweeper instead of others. The basic premise here is that they are trying to replace the need for a broom and dust pan, and trying to reduce the amount of times you lug out your heavier vacuum. Of course you'll still want to have a top-rated vacuum to get things really clean, but it can be overkill when you just want to sweep up after dinner, or you made a small mess that doesn't merit a full vacuum job.
Choosing the Right Sweeper
There are a few things to keep in mind so you don't get overloaded by all of the options you have available. First, you don't want to go with just an ordinary sweeper any more. That's so old school these days. You have to have at least a few features added, or some upgrades that will make your life easier. Many times you'll notice that there isn't much of a price difference between a sweeper with only a few features, and one with everything but the kitchen sink thrown in. In our opinion the best upgrade you can get is some suction, which helps you not only sweep things up, but pick them up as well so you skip the step of having to use a dustpan.
Sweeper Review Recaps
We've gone through the gamut of sweepers you have available and are bringing you the best ones we've found so far, as well as some others that don't quite measure up. Once you find one whose features line up with your biggest wants, you should go with it. The end results should be a cleaner home, with less effort on your part, which is something most of us would appreciate.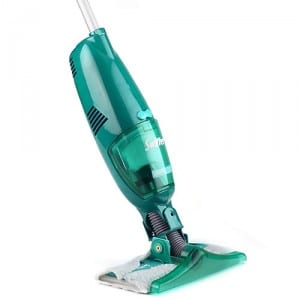 Swiffer SweeperVac Recap
The Swiffer SweeperVac is doing its best to be your go-to option for small to medium sized messes. By adding a vacuum capability to the already popular sweeper, they are giving this an upgrade and adding a lot of value. This allows you to clean for longer periods of time because you're not just pushing the dirt, dust, hair, and other debris around, you're sucking it up.
With the standard Swiffer cloth that already has great reviews, you're also giving your floors a good clean at the same time. This got our Thumbs Up, and we recommend it if you don't have a sweeper yet, and also as an upgrade if you already do.
See our full review on the Swiffer SweeperVac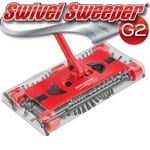 Swivel Sweeper G2 Recap
The G2 is one of the more advanced sweepers you'll find, and the first thing you'll notice about it that you'll like is that it swivels 360 degrees so it's easy to maneuver in tight spots. It also picks up from all sizes, so there are no wasted motions when you use it. Pushing or pulling, moving it from side to side, it all results in cleaner floors.
One of the features that everyone likes is that it's easy to empty. You don't have to get your hands messy at all, and it's quick and easy to use.
See our full review on the Swivel Sweeper G2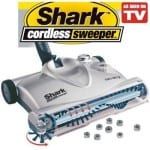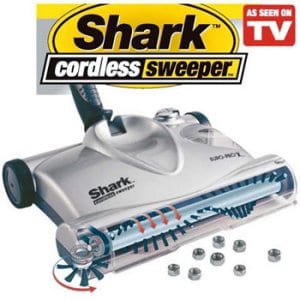 Shark Sweeper Recap
The Shark Sweeper is the entry by the Shark company. We expected a lot from them, because they hit a homerun with their Navigator Lift-Away and turned in another strong performance with their Steam Pocket Mop. And while this is a decent sweeper, at this price you can do better, and you'd probably do well with the SweeperVac featured above.
With a sweeper, you want something that is reliable, and that works well each time you use it. There are too many reports of this breaking down before long, and at this price you shouldn't have to worry about replacing this for a few years.
See our full review on the Shark Sweeper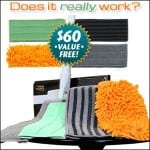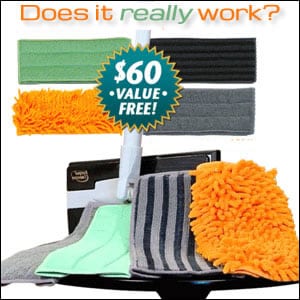 Keeper Sweeper Recap
The main draw of the Keeper Sweeper is that it can clean many different surfaces in your home because you can change out the heads depending on what you need it for. It's got a special pad for getting hardwood and linoleum, a duster, and a mop, and even a glass cleaner for windows and mirrors. So if you had the gumption, you could give your house a thorough cleaning just by changing out heads.
In all likelihood you'll probably just end up using this for one or two functions, like sweeping up your kitchen floors, or even scrubbing up caked on messes.
See our full review on the Keeper Sweeper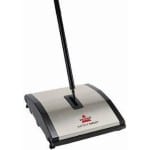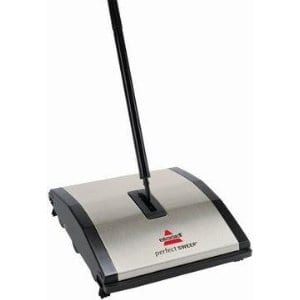 Bissell Sweeper Recap
The Bissell brand sweeper is the classic sweeper that's been around for years, and used in places like hotels and restaurants to sweep up surface debris without using a vacuum. This is because it is very quiet, and doesn't disturb diners and guests. It's also not really known for doing anything bigger than crumbs, and you wouldn't want to use this to replace your vacuum by any means.
It comes in handy for smaller messes, like if you dump a bowl of popcorn, or something similar. It's handy to have around, but you can do better with one of the sweepers mentioned above and you don't really need something like this.
See our full review on the Bissell Sweeper

Where Have You Been All My Life?
When the sweeper craze was at its height, you'd think it was the best invention since sliced bread. People went ape over it, and couldn't believe they had to use a broom for so long. Then, when Swiffer came out with the WetJet, there was a big rush to get that instead of using a mop. It's amazing just how quickly and easily we can clean things compared to yesteryear. Having such a clean home can be therapeutic, and can really make you feel more comfortable after a day at work, to just relax in a nice clean home without spending a lot of time keeping it clean.
The Best of the Best of the Best
We've rounded up some answers to some of the most frequently asked "best" questions for sweepers. This will give you a quick rundown of what sort of sweeper you should get for specific tasks or features.
Best Floor Sweeper Vacuum
Sweeper vacs bring the best of both worlds because they not only provide the effectiveness of a sweeper, but they work to remove the mess by vacuuming it up. If you're used to stopping and picking up a pile of debris that you've swept up, you probably remember making a mess out of it and needing to sweep up again. With a sweeper vac you are accomplishing two tasks at once, and removing the need to clean up a pile of dirt, dust and hair when you're done sweeping. Check out the Swiffer SweeperVac for one of the top-rated sweeper vacs on the market.
Best Sweeper for Hardwood
Hardwood was made for sweepers, or maybe the other way around. Sweepers work great on hardwood because they usually contain microfiber that works to get in between the cracks, without scratching up the wood. The best sweepers for hardwood are the ones that have some suction to them so you can get all of the crumbs and small particles that make their way between the floorboards. This is really the reason they created sweepers, because hardwood is not something that most vacuums can handle well, and a broom is not good at getting the space between the wood slabs. You can use most sweepers on carpeted areas as well, but they will only work to get the surface debris and are no replacement for a quality vacuum.
Best Sweeper for Tiles
Tiles are sometimes tough to handle for a sweeper. A steam mop works better for tiles, and if you're trying to get to the grout to clean that out you'll want to go with a steam cleaner so that you can use the pressurized steam to do most of the work. Many sweepers work best under dry conditions, but tiles usually respond best to wetness, so you will probably not get the best results from using a sweeper on tiles.
Best Sweeper for Pet Hair
If you're inundated with pet hair you are probably looking for a sweeper that can handle it. The insidious part about pet hair is the way it sticks so easily to surfaces. Some sweepers might have a problem picking it up off of even a smooth surface. Others might not be able to get it off of carpeted areas. But there are some out there that can not only remove it from hardwood and other hard flat surfaces, but also off of furniture and other clothed surfaces. Look for a sweeper that has special bristles for pet hair. The Swiffer SweeperVac described above has been noted for its ability to suck up pet hair and keep going.
Best Way to Keep Things Clean
They say you should vacuum your home once per week for every member of your household. So if there are 3 of you you should vacuum about every other day. This means that you can simply use your sweeper on the other days so that when you go to vacuum you are just getting up the dirt and dust that has found its way into the carpeting. Once a week you should use a steam mop to get your floors nice and clean, and to make sure that they're sanitized. If you follow this system you will always have nice clean floors that contribute a lot to the overall cleanliness of your home.
Our Sweeper Recommendation
If you choose wisely, your sweeper is poised to be your best friend in the kitchen and around the home, wherever you have hard surfaces. You'll reach for it more than any other cleaning item you have. In fact, once you have it handy, you'll wonder how you dealt with certain messes the old way. The Sweeper you want to go for is one that gets high reviews and ratings from real users, is priced well, and should last you for 2 years or more. Some of the features you want in a sweeper are the ability to use it on multiple surfaces, and also you'd prefer it to have washable and reusable pads so that you don't have to keep buying replacements.