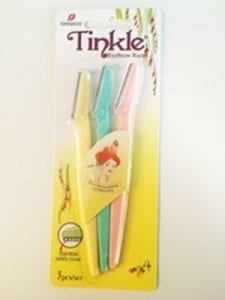 When it comes to hair removal there are tons of products on the market for the removal of all types of body hair. For women one of their complaints is finding a razor that is gentle enough to use for facial hair. One company took notice of this complaint and developed a razor just for this purpose and these are the Tinkle razors.
Overview
The Tinkle Razors are small and compact and have a streamlined blade that has been specifically designed for fine hair. This is the type of hair that most women are dealing with when it comes to facial hair.
The Claim
According to Tinkle Razors their particular razors are designed to be used on sensitive skin which most facial skin can be classed at, at least if you compare it to the skin on the rest of the body.
The Hype
The hype really focuses on the fact that Tinkle Razors have been designed for facial hair and mostly for women. Women like the fact that the razor has been designed for their gender.
The Cost
If you buy Tinkle Razors directly from them you can buy them in multiple packs. A single pack which contains three Tinkle Razors will cost you $6.99. You can buy these in other places like Amazon for example, where they may be cheaper. However, some purchasers are complaining that they do not have the Tinkle logo on them and they are not the same as the original Tinkle that they used in the past.
The Commitment
The first commitment you have to make is whether you want or need to shave parts of your face using the Tinkle Razors. It has often been said that when you begin to shave that the hair will grow back thicker and coarser. Others say this is a myth. Then if you are going to use the Tinkle Razors for your eyebrows you need to do so very carefully and develop the proper techniques as this will include shaping your eyebrows both the same way which can be a bit tricky when you are using a razor.
Evaluation
Many women want to be able to shave the fine hair on their face and many like to focus on areas that are prominent with hair such as the chin and upper lip. Then there are women who prefer to just shave their eyebrows. It would seem as though the Tinkle Razors may be ideal for all of these uses.
Final Tinkle Razors Review
We are going to give the Tinkle Razors a thumbs up. Mostly because we like the fact that they have been designed for women. Secondly because we know that there are a lot of women who are dealing with facial hair problems and this seems like one of the better solutions compared to traditional methods like tweezing or waxing. The price is reasonable and if you get the true Tinkle Razors brand then it would seem that there are many purchasers that are happy with them.
Our Recommendation
If shaving is just not your thing then you may want to look at another type of hair removal system like the Pearl Hair Remover.
What do you think? Does the Tinkle Razors work or not?