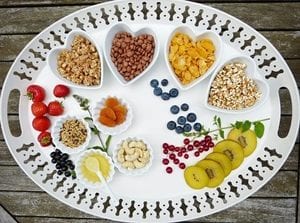 Health and Fitness have become very important to many people. They have come to realize that leading a long and healthy lifestyle can add years to your longevity. This is why it is important to eat healthy and follow an eating plan like The Dash Diet.
Overview
The Dash Diet is a structured healthy eating plan which is heart-healthy.
The Claim
The claim to The Dash Diet is by following this program, you will be able to reduce health issues by limiting fats, carbohydrates, and sodium intake.
The Hype
The hype about The Dash Diet is that there are no special foods required. You purchase your food at the local grocery store.
The Cost
There is no fee for The Dash Diet as it is provided by the National Heart, Lung and Blood Institute. You simply go to their website and download all the information pertaining to the eating plan. The cost comes into play when you begin grocery shopping for the healthy foods you will need to follow the program.
The Commitment
The commitment to The Dash Diet starts with the decision to make the food and lifestyle changes that you should be making for a healthier new you. You will also need to study the plan and buy the necessary foods required to effectively follow the plan. The biggest commitment is the commitment you make to yourself by following the plan and make this a lifestyle change permanently.
Evaluation
The Dash Diet looks like an amazing eating plan. There is no need to purchase special foods and dietary supplements like other diets. This plan teaches you how to eat properly by limiting fats, starches, and sodium in your diet. Following this eating plan will have major positive health benefits. Many studies have been done and have proven that this program can help reduce hypertension, sugar blood levels, weight loss, improved heart health, improved circulation, and many other health benefits. This plan is not a one size fits all. There are many factors to explore when beginning the program. Factors like gender, age, height, current weight, ideal weight, required daily calorie intake, and activity levels come into play. This plan can be customized to meet every individual's needs. The basis of this diet encourages eating fruits and vegetables. whole grains, fat-free or low-fat dairy products, fish, poultry, beans, nuts, and vegetable oils. While at the same time limiting your intake of saturated fat contained in fatty meats, full-fat dairy products, and many tropical oils like palm and coconut oils. There are many examples of daily and weekly eating plans to give you an idea of how you can plan your meals.
Final Dash Diet Review
We are going to give The Dash Diet a thumbs up. Any lifestyle change that can improve your overall health is a huge benefit. The Dash Diet is rated #2 in best diets overall, #2 in the best diabetes diets, and #3 in Best heart-healthy diets. With the huge variety of diets on the market, these are excellent ratings. We would highly recommend The Dash Diet as a healthy alternative eating plan.
Our Recommendation
If you want to do a comparison then take a look at the 3 week diet.
What do you think? Does the Dash Diet work or not?