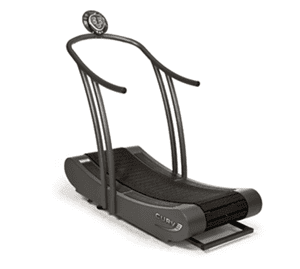 If you're not born rich, it means you have to work for a living, and this means that you have to be healthy enough to do this. Treadmills are definitely one of the top machines that are great for both cardiovascular as well as aerobic type of exercises, and the Woodway Curve has been rated in the top five from Men's Health Magazine and is definitely a machine that is worth owning.
Overview
There are a lot of great features about the Woodway Curve compared to other treadmills, and one of the best is that it is non-motorized, which means not only do you save money on electricity bills, but it also means that there is no top speed and users don't have to wait for the belt to get up to the speed that they want to walk or run at. You have to put the energy into the belt itself, and this means that you will burn a whole lot more calories and use far more muscles than what you would with a conventional treadmill.
The Claim
The Woodway Curve treadmill  has been scientifically proven to burn 30% more calories than if an individual was running on an ordinary treadmill. Actually research has shown that even just walking on the  Woodway Curve simulates a cardiovascular and caloric burn benefit that would normally be shown by somebody running on another treadmill.
The Hype
The floor of the Woodway Curve is made of rubber slats that actually slide on 112 ball bearings that create minimal friction. This allows the surface to absorb the impact shock that you would normally feel on your joints and connective tissue. Basically this means that you are able to walk and run and get the full benefits of your exercising with minimal damage done to your joints and other muscles. The fact that the Woodway Curve  is curved ads even more benefits to you during your exercise, and compared to other non motorized treadmills it will seem like you're walking on air.
The Cost
The cost for the  Woodway Curve at the fitness superstore .com is $5,499.00 but if you hunt around you might be able find it cheaper somewhere else online
The Commitment
The Woodway Curve  allows the individual to work the entire leg while at the same time preventing any type of serious injury that sometimes can be associated with exercise performed on the treadmill and other exercise equipment. There's a full money back warranty on the Woodway Curve  if you are not at all satisfied, and they will stand by their equipment at all time to ensure that every client is happy and satisfied with their purchase.
Evaluation
After checking out the type of training that can be performed with the Woodway Curve and reading the number of reviews that have been posted by people that have invested in this great exercise machine, it truly seems that, although it is fairly costly compared to the regular home gym equipment, it is well worth the money when you look at the rewards and results that you will end up with.
Final Woodway Curve Treadmill Review
The final workout with the Woodway Curve will yield some amazing results and because you're able to do this with minimal chance of being injured is just another benefit of this treadmill.
Our Recommendation
If you are looking for a piece of equipment that does it all then you may want to check out Total Body.
What do you think? Does the Woodway Curve Treadmill work or not?