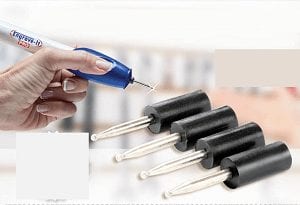 The Engrave-It Pro Tips is simply a hand held engraving tool that lets individuals such as yourself perform engraving on a wide variety of surfaces in the comfort of your own home.
Overview
This small, easy to use, pen like engraver is designed to let anyone engrave whatever comes to mind on any surface they can imagine, within certain limits of course. It is rechargeable and very portable and comes with a variety of accessories to make engraving simple and fun.
The Claim
The company claims that you will now be able to engrave like a pro and that the Engrave-It Pro Tips will allow you to express your artistic side by allowing you to engrave on pretty much any surface such as metal, silver, glass, copper and even wood.
The Hype
The hype behind the Engrave-It Pro Tips suggests that you will be able to engrave like a pro with this unit and will be able to personalize gifts and other items that you may find fun or interesting or practical to engrave. The durable diamond tip will allow you to engrave a wide assortment of materials and when the tip gets dull you simply replace it with a new tip, sold in packs of 4, so that you are able to continue engraving to your hearts content.
The Cost
The cost for the Engrave-It Pro Tips is a very respectable $7.99.
The Commitment
Since the Engrave-It Pro Tips comes with everything you need to begin engraving immediately there is very little to complain about at this price point. It is cordless, practical and easy to use and works a wide variety of surfaces. The fact that you can order 4 packs of new tips when the original tip wears out makes it a little suspect in that quite obviously the tips are intended to wear out on a somewhat regular basis hence the 4 pack when re-ordering.
Evaluation
We certainly like the idea of being able to engrave items in the comfort of our own home and think that this unit definitely has some upside to it including the accessories that come with the kit which includes a magnifier for doing fine detailed work as well as a stencil kit that will guide you while you engrave different images. The fact that it is shaped like a pen is also quite practical in that it certainly would add to the ergonomic benefits by making it easy to hold and engrave without much effort. Overall the idea is a good one and could be a fun and easy way to engrave things such as keys and tools and other valuables that you may want to be able to identify such as the kids electronics and such or even to engrave gifts that you may want to give such as personalized wine glasses or other fun and classy items.
Final Engrave-It Pro Tips Review
The Engrave-It Pro Tips is a handy, portable engraver that is sure to get a ton of use around the house, it is very inexpensive and comes with some great accessories and seems very easy to use. Has some practical uses that would make it well worth the $7.99 that it is sold for. Based on all of this we are going to give the Engrave-It Pro Tips a Thumbs up.
Our Recommendation
We really like the idea of being able to engrave and personalize items around the house or gifts easily and cheaply and think that the Engrave-It Pro Tips fits the bill very nicely to accomplish that. With some practice and effort you may even get good enough to whip up some nicely personalized gifts for friends and family. We have talked about a very similar product that has received some good feed back called Engrave It.
What do you think? Does The Engrave-It Pro Tips work or not?