If you haven't found the one foot cream to rule them all yet, you need to get on it! A high quality foot cream is a necessary part of any self-respecting foot care survival kit. You can get everything else right with your feet, but if you get the cream wrong they're not going to be at their best.
Dry, cracked feet are the result of a little bit of neglect, but it's not really your fault, it's just the nature of feet. The good news is that this is what makes foot care so much fun. When you have a nice pair of good looking feet, it shows that you really keep up with yourself. Everyone recognizes that this is a part of the body that easily gets overlooked, so by paying it extra attention you go the extra mile.
Choosing the Best Foot Cream
Dry feet don't stand a chance when they're up against some of the leading foot creams on the market. They've come a long way in recent years, and now there are several creams that are designated entirely for the feet. They contain special ingredients in them that are able to turn even rough, and callus-filled feet back to their more supple selves. Choosing the right one can be tricky, but the good news is that there's really no way for you to fail here. It's not like you're buying a lifetime supply of foot cream, so trying a few different brands is easy to do each time you run out.
Foot Cream Review Recaps
After analyzing the market we made a list of some of the best-selling foot creams out there. We then went through and put each through our propriety review process. What follows are synopses of our full review, which should help you get a good idea of what your top options are with just a quick glance. Check out the full review for the ones that interest you.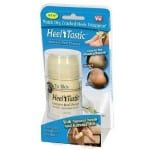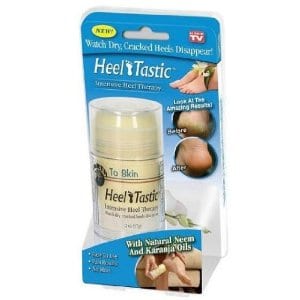 HeelTastic Recap
On the surface HeelTastic looks like just about every other foot cream that's out there. But after trying it we have to say that it does work at alleviating dryness, and with repeated use it has shown to clear up cracked heels so that you can wear sandals and other open footwear without being embarrassed.
When you combine this with a quality foot file you are pretty much setting yourself up for foot care success. It is a tad greasy, so you might want to put it on before bed and then put a pair of socks on to keep it contained.
See our full review of HeelTastic


Miracle Foot Repair Cream Recap
Miracle Foot Repair is one of the best foot creams that we took a look at, and it lived up to a lot of expectations, like feet that are less itchy, and not dried out, and we're not quite sure how they do it, but as soon as you start putting it on they start feeling better.
The smell is something to point out, because our feet usually smell bad, and with this cream smelling so good you end up with feet that smell better, feel better, and get a nice aloe-based treatment. This is perfect as part of a daily foot care routine.
See our full review of Miracle Foot Repair Cream


Ped Egg Recap
We know this isn't a foot cream, but it is something that dovetails nicely with some of the better reviewed foot creams on this page. If you give yourself a nice go with the Ped Egg, and then use a cream immediately afterwards, you're going to feel like you just got out of the spa after having a professional foot treatment.
The thing we like best about this is the safety aspect. IF you've ever had a pedicure where they went too far with a pumice stone or shaver, you know that it takes a while for foot sores to heel and you have to walk around in pain for some time.
See our full review of the Ped Egg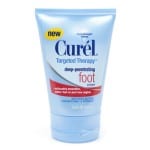 Curel Foot Cream Recap
If you're looking for a cost-effective cream that you can just pick up and use as needed, then Curel fills that void. It's not really going to give your feet an overhaul, but it can alleviate some of the dryness, and has received good reviews.
This is more of a maintenance mode cream, so if your feet are in need of something more heavy duty you should continue your search. We'd keep this one handy as something to have where you're not too concerned about how much you use because it's not expensive.
See our full review of Curel Foot Cream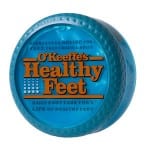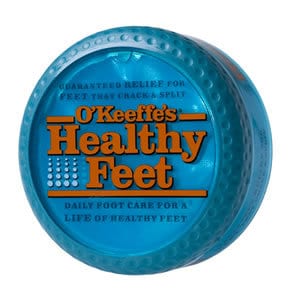 O'Keeffe's Healthy Feet Cream Recap
The only problem with O'Keefe's is they appear to have changed their formula. This sometimes happens when a company tries to cut expenses and tries to make the same product with different ingredients. The high praise and good reviews it gets seem like they were earned before they made the switch.
We don't recommend going with this one, because we're pretty sure it's not the original formula that is so well-received in the market. Although you might consider trying it if you haven't found a cream you like yet, as it still contains some good qualities.
See our full review of O'Keeffe's Healthy Feet Cream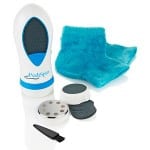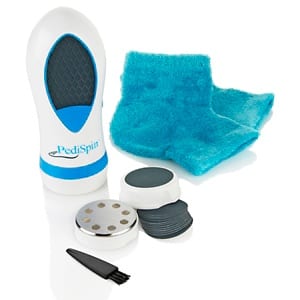 Pedi Spin Recap
The Pedi Spin is a product that might come up in searches for foot creams, and one that you should avoid if you think it's a great idea. It's basically a motorized Ped Egg, but it doesn't work at all because it is powered by ordinary batteries you buy in the store.
As soon as you press it down on your foot the motor will stop completely. It therefore renders it useless so don't waste your money and stick with a Ped Egg instead. You won't be able to get the job done at all. Check out our video review for proof.
See our full review of Pedi Spin Recap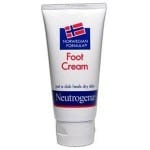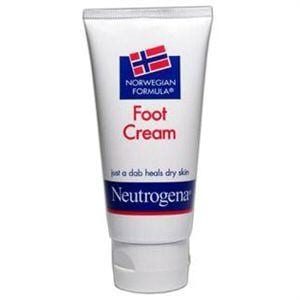 Neutrogena Foot Cream Recap
You're probably familiar with the Neutrogena name because it's been in stores for ages, but how good are they at creating a quality foot cream. As it turns out, they're pretty good, and their reviews show that their cream works at keeping your feet smooth and soft, and the results last for a good time.
The reason it's a success is likely due to Neutrogena being around for so long and focusing only on skin care and moisturizers. They haven't spread themselves too thin by trying to branch off into other health products, and have only worked to keep producing top moisturizing lotions and creams.
See our full review of Neutrogena Foot Cream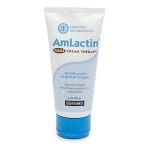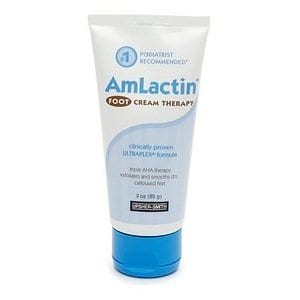 AmLactin Foot Cream Recap
It's hard to ignore the reviews that AmLactin is getting with many users singing its praises, not only for its effectiveness but also for its price. This is one cream that you can have in your arsenal just because it'd be silly not to.
This has been shown to turn feet around from being dry and nasty to smooth and pampered. That's the goal for all of these foot creams, and they're getting it right at AmLactin Inc. If you don't yet have a go-to foot cream, try this one out and see if it is what you've been looking for.
See our full review of AmLactin Foot Cream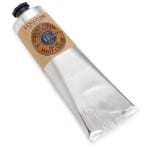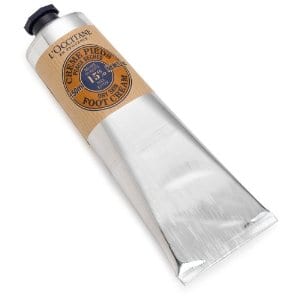 L'Occitane Foot Cream Recap
L'Occitane uses Shea butter as the secret ingredient here, and it appears to work. We ended up giving this one the go ahead after so many people said that it works. This is a good cream for maintaining healthy feet, but it's also good on cracked, dry feet so you can use this no matter what shape your feet are in.
It's really a matter of giving this a try to see what sort of job it does on your own feet. It's not the end of the world if it doesn't work for you because we have at least two other foot creams on this page that also work well.
See our full review of L'Occitane Foot Cream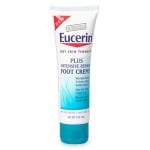 Eucerin Foot Cream Recap
Eucerin has been around for a long time and has built itself a strong reputation for being one of the better moisturizers out there. Plenty of people rely on it as a hand lotion, but the feet are much different and require a different approach to moisturizing. That's why we were excited to try this out to see if they could make the transition smoothly.
We weren't let down. They got it right and have produced a winner here. Check out all that we found out about this cream in our full review.
See our full review of Eucerin Foot Cream

Best Foot Cream for Dry Feet
The reason feet get so dry is because of the conditions we put them through. The spend a lot of time trapped inside shoes, where it's dark and moist, then when we get home we pop our shoes off and expose them to the air. This does a pretty good job of drying them out, but it also makes a difference what sort of climate you live in, as well as the footwear you have.
Getting rid of dry feet is a continual process. That's why so many people get hung up on it, because properly moisturized feet don't stay that way for long. You need to keep up with it pretty much daily, with a high quality foot cream that is known for long lasting results. For dry feet try either the Neutrogena or Eucerin brands, as these were shown to shine in this area, which is no surprise because they've been moisturizing us for decades.
Best Foot Cream for Cracked Heels
Cracked heels are not only tough to look at, but they can become painful as well. The good news is that once you get them under control it is easy to keep them under control. Take a look at HeelTastic, as it not only claims to work wonders on calluses and cracked heels, but we tested it out and found that it lives up to those claims.
Best Foot Creams for Pain
If you've got sore feet what you really need is a foot cream that makes them feel better, but also works on keeping them soft and supple. You can get the best overall foot cream experience by going with Miracle Foot Repair Cream. This starts making your feet feel better right when you start putting it on. It's a great way to end the day if your "dogs are barking" but also a good anytime treatment that will leave your feet looking great, feeling better, and smelling good too.
Best Foot Cream for Diabetics
Diabetes can lead to various foot problems, including a loss of circulation and an impairment of nerve endings. Taking good care of your feet is especially important. You'll want to make sure that you're always wearing shoes or socks, and getting your toenails professionally pedicured. Check your feet daily for any worrisome signs. At this daily checkup you can also apply some foot cream as part of your overall care. This will help you from getting dry, cracked feet which can be exacerbated by your diabetic condition.
Ask your doctor if there are any special foot creams that would be better for you than what is sold to the general public.
Our Foot Cream Recommendation
Ultimately you'll want to go with a foot cream that works best for you, not for everybody else. Our recommendation is one that you might not expect, and that is to have fun with this and run your own testing campaign. This is because these aren't one-off purchases. You're going to have to buy another tube whenever you run out, so if you don't like what you've been using, you have the perfect opportunity to try something else. With the products on this page you have a high degree of liking what you try, but there is no guarantee. That's why you should do your own foot cream test until you find one that you can't part with.