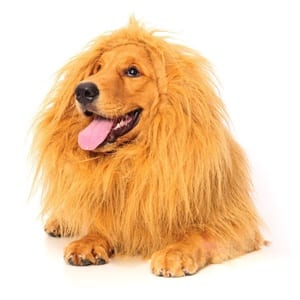 When the fall hits its time to start thinking about Halloween. It's a fun season giving plenty of opportunity for decorating, and picking out costumes. Of course for the kids aside from the fun of dressing up its the big cash in for free candy that is the drawing feature of this occasion.
Overview
The Lion Mane for Dog is a Halloween costume for your dog that is absolutely adorable.
The Claim
The promoters claim that the Lion Mane For Dog is easy to put on your pooch and is designed for large dogs or even large pups.
The Hype
The Lion Mane for Dog simple yet really cute and easy to get on and off so when you are dealing with a dog this is a real bonus.
The Cost
The Lion Mane for Dog is available for $15.99 and you are supposed to get a free lion's tail to go with it.
The Commitment
The commitment is going to be the fun part hopefully. Getting your dog dressed in the Lion Mane for Dog may be a simple task if you dog happens to be docile. Or, if not then you may have to do some coaxing with some dog treats while you slip the mane over his/her head. Most likely once you get it on then it won't be an issue unless your dog takes offense to it. Where you may have some battles is convincing the dog to put up with the lion's tail.
Evaluation
At first, we decided to talk about the Lion Mane for Dog because we thought it was really cute and that a lot of people would enjoy reading about it. We didn't realize just how serious this product would be taken until we noted that there was actually a commercial made for it on tv, which was really adorable and well done. In this case, it wasn't geared around Halloween but was used to entice a toddler that the family dog when wearing the Lion Mane for Dog was just another one of her cuddly stuffed toys.
Final Lion Mane for Dog Review
It is really common for many families to dress up their pets for Halloween. It is not unusual to see the family dog decked out in some type of garb toddling around the neighborhood on Halloween night with the kids. They too enjoy the odd treat that is handed out to them. For this reason and the fact that doggie attire of any kind is a big market, we are going to give the Lion Mane for Dog a thumbs up rating. We also like the fact that it is simple and not restricted and doesn't hinder the dog's movement.
Our Recommendation
At least this Lion Mane for Dog is a costume you should be able to use year after year for your canine friend. If you happen to be a dog lover and are interested in some other neat products or want to know more about some of those that have been really hyped up check out our pet reviews.
What do you think? Does the Lion Mane for Dog work or not?