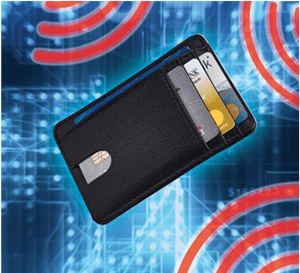 Identity protection is extremely important to many people. The Lock Wallet Slim may be a product that can help with this protection.
Overview
The Lock Wallet Slim is a product that has the capability to hold up to 12 identification and credit cards. It is also includes an RFID blocking panel.
The Claim
The claim to the Lock Wallet Slim is that by using this product your Identification and credit cards will be safe from identity theft.
The Hype
The hype about the Lock Wallet Slim is that it holds 12 cards, receipts, and money in the form of bills and coins within in it's ultraslim wallet while protecting identity.
The Cost
The cost of the Lock Wallet Slim is $10. with an additional shipping fee of $6.99. The special offer on TV allows consumers to purchase a second one by simply paying an additional shipping fee of $6.99. The price is from the As Seen On Tv Commercial page.
The Commitment
The commitment to using the Lock Wallet Slim is to ensure you place important personal identification, credit and debit cards within the wallet when you receive it. Make sure your personal identity cards are placed in the two side pockets to ensure they are protected. The center compartment is for cash, bills and coins.
Evaluation
There are many other products available that claim to do the same thing as the Lock Wallet Slim. This wallet was designed for both men and women and it's ultra slim construction can fit into almost any shirt or pants pocket. Once the wallet has been filled with 12 cards there is not a lot of space left in the middle compartment for much cash, without busting the wallet at the seams. This wallet would be best used with a few cards and cash you will need for the day. It only comes in 1 color, black. It is not leather, but does have a leather look to it. If not overfilled this wallet may give you a few years of life without ripping or falling apart. It is rectangular in shape and has an ultra slim design. The Lock Wallet Slim's main feature is the RFID-Blocking Shield. This may protect identity thieves from stealing your identity with digital scanners. The wallet comes with a pocket magnifier with a built in light. This may not fit in the wallet itself, but can be used to read items with small print.
Final Lock Wallet Slim Review
We are not going to give the Lock Wallet Slim Product a thumbs up. According to TV Stuff Reviews only 56% of consumers voted yes to the fact that this product was worth buying. 44% of voters voted no, it was not worth buying.Our Recommendation regarding the Lock Wallet Slim product, would be to research Amazon for like products that have higher ratings and are constructed of better quality.
Our Recommendation
A wallet that you may want to check out is the Atomic Charge Wallet.
What do you think? Does the Lock Wallet Slim work or not?