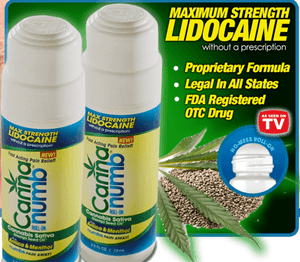 There are many products available which contain numbing agents for pain relief. Cannanumb contains the maximum strength dose of lidocaine of all over the counter products.
Overview
Cannanumb is a new As Seen On TV fast-acting pain relief over the counter topical medication.
The Claim
The claim regarding Cannanumb is that it has the highest amount of lidocaine that can be purchased in a product without a prescription.
The Hype
The hype about Cannanumb is that it is an extremely fast-acting formula.
The Cost
The cost of Cannanumb is $29.99 plus $7.99 shipping and handling fees. However, if you purchase a second bottle, you receive free shipping
The Commitment
The commitment to using Cannanumb is ensuring you read all the ingredients contained in the product. This will determine if it contains anything you may be allergic to. Applying this product upon the onset of pain will allow it to work faster.
Evaluation
Cannanumb seems to be a good product. It can penetrate nerves that are aggravated. It is a unique proprietary formula. This product contains no medicinal odors. The liquid roll-on application makes this product very easy to use. Cannanumb penetrates deeply and is fast acting for back pain, neck pain, and leg pain. This product is doctor recommended. It has cannabis Sativa hemp seed oil. This oil is very powerful in treating inflammation. This ingredient allows the product to work immediately in relieving pain. Other medicinal ingredients are maximum strength lidocaine, glucosamine, menthol, Boswellia serrata extract, and arnica. The combination of these six powerful ingredients attack nerve pain and gives relief to aches and pains in muscles.
The is an FDA registered OTC drug. This product is made with 100% certified organic hemp seed oil.
Final Cannanumb Review
We are going to give Cannanumb a thumbs up. It is a great deal, especially free shipping if you buy two. The fact you can purchase this product without a prescription is very convenient. Everyone loves a product that gives instant pain relief. 85% of customer reviews rated this product 5 out of 5 stars. Reviewers have stated Cannanumb works fast to relieve pain, and the pain relief lasted a long time. One reviewer has tried many products, and they have failed. However, this pain reliever works amazingly. One customer stated he was able to reduce oral pain medications with the use of Cannanumb. We highly recommend Cannanumb as a pain relief product. It has a pleasant orange smell to it, not a medicinal smell. It works well and quickly to relieve muscle aches and pains. There is no THC content in this product. The glucosamine ingredient helps to relieve joint pain. Arnica reduces pain and swelling caused by sprains and bruises. Therefore this is a multi-use liquid pain reliever. It also contains lidocaine HC1 4%. This is the highest strength lidocaine without having to have a prescription.
Our Recommendation
If you want to do a comparison, then take a look at Livrelief.
What do you think? Does Cannanumb work or not?