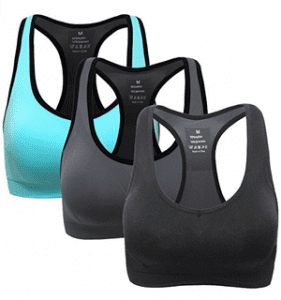 If you are going to dedicate yourself to working out then one thing is for sure and that is that you want to be comfortable when doing so. One piece of attire that can be a bit of a problem during workouts is the bra. If this is something that you have an issue with then checkout the Mirity Women Racerback Sports Bras.
Overview
The Mirity Women Racerback Sports Bras are made for ease of putting on and taking off. They are meant to keep you cool, and they are designed to reduce the riding up that often happens with a standard type bra during workouts.
The Claim
The promoters of Mirity Women Racerback Sports Bras suggest that these bras are soft and stretchy so they do not inhibit your movements.At the same time the bra provides excellent support.
The Hype
The hype for the Mirity Women Racerback Sports Bras revolves around the design of the bra. The front has high coverage so there is no embarrassment when you are going through some of your workout moves that require you to bend down and you are worried about being exposed. The back design with its cut out feature allows for air flow which helps to keep you cool.
The Cost
For the Mirity Women Racerback Sports Bras you can expect to pay anywhere between $14. to $32.
The Commitment
There really isn't much of a commitment necessary for wearing the Mirity Women Racerback Sports Bras. You may need awhile to adjust to the feel of the bra as it is a different design that you may be used to.
Evaluation
There are some really good features about the Mirity Women Racerback Sports Bras that have addressed a lot of the concerns that many women have about this type of clothing when working out. The main complaints that usually come with the sports type bras is that they ride up, or they are too tight to prevent this. The Mirity has fixed this problem without it being too tight or restrictive. Another complaint about the average bras are they are restrictive, and again this has been solved. Then the final one is being too hot. The design of this bra addresses this problem.
Final Mirity Women Racerback Sports Bras Review
We are prepared to give the Mirity Women Racerback Sports Bras a thumbs up. It appears that they are so well designed that they would be appropriate to be worn during any type of workout. It is a simple pull over type bra that has built in removable cups, and overall it is lightweigh. It pretty well meets all of the "must haves" that women want in a sports bra. It is a big seller on Amazon with a 4 star rating. Perhaps the most significant complaint is the size being too small, so make sure if you are ordering to watch the sizes carefully.
Our Recommendation
As always we like to offer alternatives so if you are looking into different types of bras then you may want to take a look at the Ahh Bra.
What do you think? Does Mirity Women Racerback Sports Bras work or not?