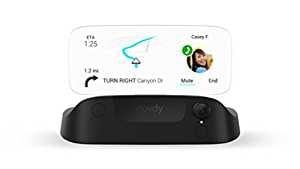 Not everyone has the latest technology in their vehicles especially if they are older models. Being able to carry on some of the functions that up until has only been available to those who opted to have it installed in their vehicles, may not be extended to others through the Navdy HUD.
Overview
The all new Navdy HUD or Heads Up Display is not only a sign of the times when it comes to tech bit also one of the coolest gadgets for your car we have ever seen!
The Claim
The claim is that by using Navdy HUD you will be able to perform certain functions like navigating and using your cell phone in the car in a much safer and compliant manner depending on the restrictions where you live with regards to using a cell while driving.
The Hype
The hype is generally realized by the "cool" factor of using a HUD while driving your car. The heads up display in the Navdy HUD is flashed onto the windshield of your car so you are able to see what you need to see without having to really take your eyes off the road.
The Cost
The cost of the Navdy HUD will depend on where you purchase it, but you can probably pick it up from places like Best Buy for about $799.
The Commitment
Once you have installed the Navdy HUD in your car and connected to all the cool features there is actually very little in the way of commitment needed other than the commitment to use this cool technologically advanced gadget to ensure the safety of not only you and your passengers but also of your fellow travelers as well.
Evaluation
The Navdy HUD is one of those excellent pieces of kit that once you have used it you wonder how the heck you lived without it all these years! The Navdy HUD quite simply projects all the information you want onto the windscreen of your car so that you never have to take your eyes off the road while driving. You can connect to your favorite music and have all your navigation information displayed in an easy to see and read format. While both of those features are very, very cool the fact that Navdy also works not just as a Bluetooth but can actually read out your text messages so that you never have to even pick up your phone at all while driving. The Navdy HUD lets you control your phone with simple swipes and gestures so that you are way less distracted when driving and that is a good thing for all peoples on the road!
Final Navdy HUD Review
In addition to reading your texts and connecting via Bluetooth technology Navdy also lets you connect to your favorite social media platforms with simple hand gestures as well. Facebook or Whatsapp and many more are all available with gestures rather than having to pick up your phone. The Navdy HUD has created a safer driving environment for all and looks damn cool while doing it!
Our Recommendation
For anyone who needs to stay connected while driving yet wants to ensure safety and fewer distractions the Navdy HUD unit is for you! If you are looking for another nifty piece of technology to spruce up the technology that is available for your vehicle then check out the Driving Activity Reporter.
What do you think? Does the Navdy HUD work or not?