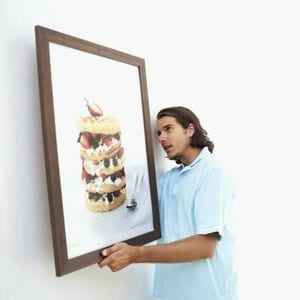 Wondering which picture hanger is right for the job? We've come a long way since the days of using a hammer and nails to hang pictures and knick knacks to the wall. Nowadays there are so many different gadgets and products you can use to get things hung up without a hammer, and in many cases without even using a nail. The ease of hanging things has gotten to the point where you can basically decorate your home any way you'd like without worrying about the how.
Choosing the Right Picture Hanger
Since there are so many different products out there all vying to be the one solution for your picture hanging needs, you need to figure out which one to go with so you don't waste time and money on the wrong product. First, figure out what your most important features are. Do you want something that is really easy to use, and you don't care if it leaves behind a hole? Do you want something that is totally nail-less so that it doesn't leave a mark behind when you take it down? Knowing what your end game is will help you pick the right tool for the job.
Picture Hanger Review Recaps
We've looked at several of the leading products in the market and compared them not only to conventional methods of hanging pictures, but also to their competition to see which ones rise to the top. It's a pretty saturated marketplace, with many original inventions as well as some copycats trying to ride the coattails of the successful products. Hopefully we've saved you some time here so you can get a quick glimpse of what works and what doesn't.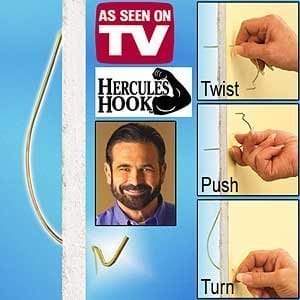 Hercules Hooks Recap
Hercules Hooks have an interesting premise. They say you don't need a hammer or any tools to use them. You just take the hook and press it into any drywall surface and it will penetrate the wall and secure itself behind the drywall, producing a secure hold, and only making a pinhole in the process.
The beauty of this is that you can hang not only pictures, but also heavier items and you don't have to worry about this digging a path into your drywall as it sags from the weight of what you hang. This lets you put up things like mirror and shelves as well.
Go to our full review of Hercules Hooks


Command Strips Recap
Command Strips are the way to go if you're renting your place and you don't want to have any issues when it comes time to get your security deposit back. Landlords are notorious for not wanting any holes left in their walls, but you still want to decorate the place while you're living in it.
With these strips you can hang posters, pictures, and they even sell ones with hooks on them so you can put hooks in strategic locations around your place for extra convenience. And when you move out they come off without marring the walls at all.
Go to our full review of Command Strips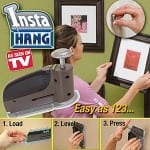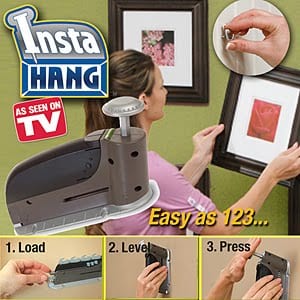 InstaHang Recap
Instahang first caught our eye on the infomercial so we just had to try it out to see if you really could hang things with just one press of this gizmo. Much to our delight it works as depicted, and we went on a hanging rampage, hanging up stuff we'd been wanting to for ages.
The great part is that when you remove the nails it's just a small nail hole, and it doesn't dig up the wall like conventional nails do when they're hammered in. Even though we had fun with this, depending on what you need it for, it might not be the solution to go with.
Go to our full review of InstaHang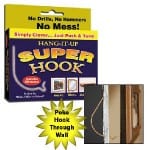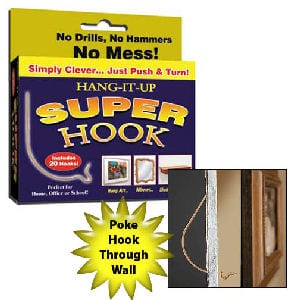 Super Hook Recap
Super Hooks claim to be "super" and they like to draw a comparison to Hercules Hooks. But after we compared them like they asked us to we felt that they don't really hold a candle to them, and that they use lower grade metal, and have lousy reviews.
So we're not sure why they're so eager to be compared to something that works well, when they don't measure up. Seems to be a risky marketing strategy gone bad. You can try them if you want, as their dirt cheap, but you might end up regretting it later when stuff you hang up falls and breaks.
Go to our full review of Super Hook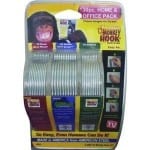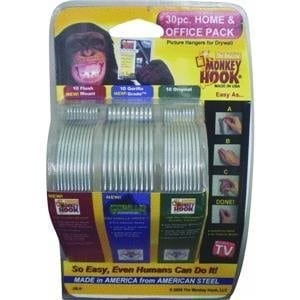 Monkey Hook Picture Hangers Recap
Monkey Hooks come in a few different varieties, and you'll likely find reasons to use them all around your home and office. They also have a reinforced model called Gorilla Hooks that can hold up even more weight than the Monkeys.
These are made well and they get good reviews. Even the regular strength ones hold up enough to get most things hung up properly. It's pretty much a toss up between these and Hercules Hooks, as they are similar in form and function.
Go to our full review of Monkey Hook Picture Hangers

Ultimately you'll want to pick a picture hanger that is best suited to your individual situation, including the type of wall, and the type of picture, poster frame, mirror, shelving unit, or anything else you want hung. There will likely never be one method for every single surface and item, so it's best to keep an assortment of items on hand so when you get the urge or the need to hang something you can move on it right away. Nothing gives a home a lived in feeling more than stuff on the walls, so pick which which picture hanger works best for you, and get to it!
Best Picture Hangers for Plaster Walls
If you've got plaster walls you've probably had a bad experience already trying to hang things on it. Plaster isn't really meant to have things nailed into it, and you can end up going through a lot of nails trying to get one to stick. Not to mention the fact that you can do some substantial damage to your drywall. The best fix for this is Command Strips, as they don't require you to use nails, and they won't mess up the finish on your plastered walls.
Best Picture Hangers without Nails
There's really only one product out there that allows you to hang pictures without using any nails. Command Strips have been shown to work great at hanging up pictures and anything else that's not too heavy. They come in many different types depending on what sort of picture you have in mind, and they even have stronger ones to hang up large pictures. Just be sure to use the one that is most suited to the picture you have in mind.
Best Picture Hangers for Drywall
Drywall is great, but can be a real pain when hanging stuff to it. This is because the heavier the item, the higher the likelihood that the nail you put into it will dig into your drywall from all the pressure. Sure, it's easy enough to get the nail in, and you can even use thumbnails or tacks for lighter things like posters. But if you want to get a secure hold, and if you want to be able to hang heavier things, you'll want to use a hook like Hercules Hooks or Monkey Hooks.
The way these work is by driving all the way through the drywall, and then curving upwards so that they brace themselves against the drywall. This means that the picture, or whatever else you hang to it, actually provides the leverage making it more secure, not less. It's a pretty ingenious design, even though they look rather simple, and look like there's not much to them. But it is often these simple designs that work the best.
How to Hang Pictures Without Nails
Hanging pictures without nails seems like some futuristic thing that people in the 50s would have thought was crazy. But now it's a reality with Command Strips. In order to pull this off properly you have to peruse their extensive line of hooks and dedicated picture hangers to find which one is best suited for what you're trying to hang. They don't come in bulk packs which is nice because it lets you be strategic with each picture and buy a pack specifically for each one.
Step One – Size it Up
You should weigh your picture and picture frame to get an idea of what sort of hook you will need. Most of the people that have a bad experience with Command Strips fail to follow this step and end up using a hook that can't support the weight.
Step Two – Clean the Surface
This is the next step that trips up many people, and results in them finding their picture on the floor in the morning, and realizing what that sound was during the night. Clean the surface and let it dry before affixing the strip.
Step Three – Wait, then Hang
Once you've fastened the strip you've got to give it an hour before you go hanging stuff on it. We recommend giving it an extra hour or two because hey, there aren't many picture hanging emergencies out there. It's now time to hang your picture. This part is just like you remember from hanging things the old fashioned way, so we'll leave you to it.
Unleashing Your Creative Side
Now that it's no big deal to hang up pictures and other decorations, you might feel like adding things to all sorts of rooms in your home. You can give your bathroom a quick new look by just hanging some tasteful wall art in it. You can turn a family room into a really nice place to relax. You can show off the family photos with a nice picture collage that will make your guests gag with envy. You can even add fun things to your kitchen that will make it look all Home and Garden-ish. Now that it's no big deal to hang stuff around your home using the veritable smorgasbord of methods, you can let your right brain take over and go nuts.
Our Picture Hanger Recommendation
If you're trying to hang heavy items like a mirrors or shelving units, be sure to get something that can hold the weight. Command Strips are great for many things, but they shouldn't be trusted to hold up really heavy items, nor are they designed to. But for things that are light and for those that are renting their place we'd go with Command Strips, as they don't leave any markings behind and are easy to use. For drywall surfaces and heavy items we'd go with Hercules Hooks. The picture hanger you ultimately go with should be suited to what you need it for most.